Indian devotees attending the recent St Anthony's church festival on the island of Kachchativu, off Sri Lanka's northeast coast, have been paying for their goods in Indian currency, journalists said.
Some 5,000 pilgrims from Sri Lanka and Indian attended the March 4 annual festival, restored last year after being suspended due to the northern conflict. Sri Lanka has administrative control of the island the distance of which is almost equal to reach from an Indian port.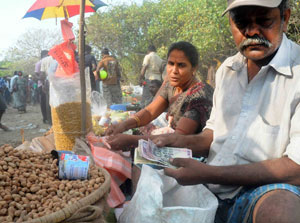 Pic by Saman Kariyawasam shows Sri Lankan traders holding Indian currency notes.