Scanning through the papers recently after the Central Bank of Sri Lanka (CBSL) published its 2011 external sector performance report, I was reminded of a pithy observation made by William W. Watt: "Do not put your faith in what statistics say until you have carefully considered what they do not say".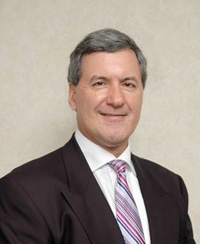 Nick Nicolaou
Some of the data were welcomed universally, particularly the jump in export earnings and tourist arrivals, while the import figures triggered some alarmist headlines highlighting the trade deficit. For me, a key point came not in the numbers themselves, but in the Central Bank's explanation that a "significant portion" of the deficit was attributable to "infrastructure-related imports of the government".
I don't know who first said "you have to spend money to make money," but in the case of infrastructure development I believe the government is right to heed this advice. So does HSBC, which agreed to finance more than US$1.5 billion of Sri Lankan projects over the past three years and helped the government raise US$3 billion in international bonds to build roads, upgrade ports, expand communications networks and diversify power supplies.
In fact Sri Lanka has been one of the standout success stories in recent years amongst Emerging Market sovereign bond issuers. Over the past four years, Sri Lanka has succeeded in building a visible and liquid US dollar yield curve, and developed a very strong following amongst international bond investors around the world.
With peace re-established after 26 years of turbulence, the government has recognized that stability provides it with a huge opportunity to build for the future. Sri Lanka's low export-dependence means the economy is relatively sheltered from external shocks, plus it's enjoying a post-war dividend in the form of resilient domestic demand for goods and services. In fact, HSBC's economists forecast GDP will grow by about 6.5% in 2012. While that is less than last year, in these times of global political uncertainty and volatile oil prices it's a pace that many Western governments would be delighted to emulate.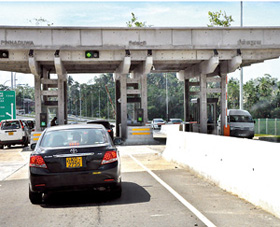 The greatest argument in favour of infrastructure investment today is that it will position Sri Lanka to benefit from a surge in cross-border business activity tomorrow. File picture shows a toll gate on the Southern expressway
However, that's not to say there will not be any speed bumps on the road to prosperity. Since the start of February, policymakers in the government and CBSL have announced a number of policy changes that acknowledge the need to address the pressures exerted on the Balance of Payments. These include: a 50bp hike in the policy rate; a shift away from price towards supply-side intervention in foreign exchange markets; and an increase in domestic fuel prices. These are undoubtedly the correct policy responses since not doing them would have led to a crisis in a short period of time
The greatest argument in favour of infrastructure investment today is that it will position Sri Lanka to benefit from a surge in cross-border business activity tomorrow. HSBC financed US$500 billion of trade globally last year, and the insight this gave us means we now think world trade will accelerate from 2014. The Asia-Pacific region will significantly outperform the global average over the next 15 years as cargo traffic increases on the South-South trade routes connecting Asia, the Middle East, Africa and Latin America.
For Sri Lanka this promises to translate into growth. HSBC Research expects local companies to increase their international trade by 4.5% annually to 2027 as interaction with developing nations offsets lower demand from developed partners such as the US and UK. Exporters will build on the country's strengths in garments and agricultural produce, and will move into new parts of the value chain such as machine tools and technical instruments.
By the time we reach the year 2050, China would have overtaken the US as the world's largest economy and India will probably have climbed into third place. Sri Lanka's close proximity to India has led some to suggest that it can become the "Hong Kong of India," providing a nimble offshore trans-shipment, financial and trading hub for its giant neighbour as Hong Kong does for mainland China.
While free trade agreements with India and Pakistan already give exporters access to a combined 1.3 billion South Asian consumers, it's been encouraging to hear President Mahinda Rajapaksa talking about a deeper relationship with China rooted in mutual business interests. Chinese interaction with Sri Lanka dates back at least 1,600 years, when the Buddhist pilgrim Faxian visited from Shanxi, and Admiral Zheng He visited several times on his voyages around 1400. Efforts to extend the partnership will be beneficial for both parties.
Chinese investment in Sri Lanka is plain to see in the nation's reconstruction projects, and before long it will reshape the capital's skyline in the form of the Colombo Lotus Tower. Less visible, but just as important, are the preparations being made by Sri Lanka to expand trade links with the East.
As the largest foreign bank in both Sri Lanka and China, HSBC welcomed the Central Bank of Sri Lanka's decision last year to approve the Chinese renminbi (RMB) for use in cross-border transactions.
One of the main beneficiaries of all this infrastructure development will be the tourism sector. Already this is evident with a 30% increase in tourist arrivals in 2011 to 856,000.
The Government has ambitious targets to achieve 2.5 million tourist arrivals by 2016. This in itself will require a doubling of the available room stock to about 45,000 rooms, and already major hotel chains like the Shangri-La and others are actively developing new luxury properties. The new roads, bridges and airports under construction will definitely make traveling around the island quicker and more comfortable, which will put the country well on the way to increase earning from tourism from $0.5 billion now to $2.75 billion by 2016.
With stable government, upgraded infrastructure and the tenacity of a people who have come through so much, Sri Lanka is well positioned to expand its economy and to benefit from its strategic position between the new Asian superpowers.