A major credit card scam run by a group of locals using more than 100 forged cards has been busted by the police. The modus operandi of the group was to skim details of credit cards used at a particular petrol shed in Colombo and use these details to produce forged cards. The group had skimmed details of more than 400 credit cards used at this particular petrol shed.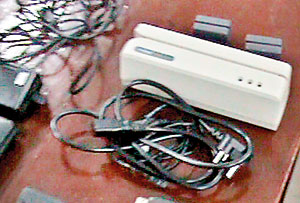 The equipment used to skim cards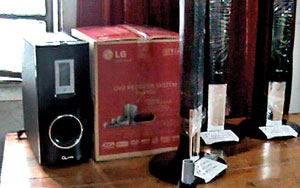 From cricket bats to hi-fi equipment: Some of the purchases made by the fraudsters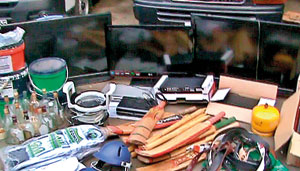 The masterminds behind the scheme never used the forged cards themselves. Instead they called for applications for sales assistants and recruited three persons paying them Rs. 12,000 each. These persons were then tasked with using the credit cards to make purchases from leading super markets, electronic goods stores, liquor shops and food outlets.
A CID officer explaining how the scheme operated said: "Once goods were purchased the 'sales assistants' were instructed to leave the parcels at a given location by the roadside. Once the parcels were placed, a van would collect the goods.
"This way even if a person was detected with a forged card he would not know the names of the persons involved in the racket" However a breakthrough was made on January 9, after most supermarkets had been alerted by the police regarding suspicious persons trying to use raudulent credit cards.
One of those involved attempted to purchase a packet of foreign cigarettes from a supermarket in Boralesgamuwa.
The card was declined and a vigilant cashier alerted the police A quick cross check made by the CID revealed that the card was a forgery and the suspect was taken into custody. Information gathered from the suspect led to six others being taken into custody, including the mastermind behind the operation -the petrol shed manager Rohan Priyantha Kariyawasam- a resident of Wattala who is currently in custody.
The group is estimated to have transacted purchases to the value of over rupees five million and include the purchase of seven 47" LCD TVs , exercise machines, expensive foreign liquor, cartons of milk food, and numerous electronic items. On occassion the group is said to have even purchased pizzas to the value of Rs. 10,000 per day using their unsuspecting 'sales assistants'.
According to the police this was the first time a local group had been found to have carried out an operation of this magnitude. In previous cases the police said, it was foreign nationals who were involved in the production of forged credit cards. Police warned the public to be on their guard when using credit cards.
They said sales assistants should not be permitted to take away the credit card and to ensure the card was not swiped in two machines as the second machine could be a skimmer used for collecting data, the official explained.