School children aged 10 – 16 years, from over ten schools in Galle participated in an informative as well as enjoyable programme at the Galle Literary Festival 2012, on January 18. The children, 200 in all were divided into two groups, Grades 6 – 8 and 9 – 11. The programmes were sponsored by Cargills Magic.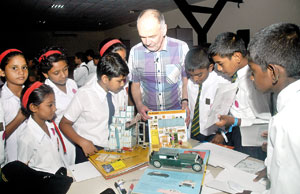 Pop-up workshop by Robert Crowther

After registration at 7.30 a.m., the children were given a breakfast pack before starting the programme. Both groups then trooped in the Hall de Galle for photographer Beat Presser's presentation of his adventure of 'Dhow – Beatus Piratus on Sindbad's Track'. Thereafter the older age group moved on to the Maritime Museum for their programme.
Story telling performance by Jeeva Raghunath from India, was much enjoyed by the students who participated with gusto. Jeeva introduced the techniques of storytelling and developing communication skills through the art of storytelling.
After a break of Kist biscuits and Kotmale milk, Robert Crowther, one of the world's leading paper
engineers conducted an interactive session on his amazing pop-up books. Each child was given a pack and given a step-by step demonstration on turning out a sample pop-up creation.
Both groups then participated in an interactive performance by Mind Adventure. On completion of the activities the children enjoyed the Cargills Magic ice-cream provided by the sponsors. Students and teachers who attended the programmes said they enjoyed it very much and it also gave them many ideas.