Ratnapura, Ferguson High School of Subaragamuwa Province emerged 1st place in the ZEST 2011 All Island Dancing Competition which was held on 12th of November, 2011 at Bandarawela Town Hall. This competition was organized by The Sri Lanka Girl Guide Association and The Uva Province Girl Guide Association.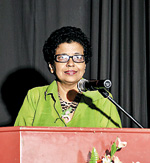 The occasion was graced by chief guest Ms. Shantha Jayalath, Girl Guide Chief Commissioner while the secretary of Uva Provincial council Mr. Sumith Suraweera of guest of honour at the event. The Girl Guide Director Mrs. Vishaka Thilakarathna, Former Chief Commissioner Ms. Kanthi Fernando, former Deputy Chief Commissioner ms. Mangala Pieris, former deputy commissioner Ms. B.A.D.J.Jayawardena, Head Quarters Directress of Subragamuwa Province Mrs. Mangalika Velegedara, Girl Guide captain Ms. Sashika Herath, Girl Guide Deputy Commissioner of Uva Ms.Buddhika Dananjani and programme commissioners and deputy commissioners were invited as special guests.
"Girl Guides are All-Rounders. They are the well behaved and disciplined ladies in the society. The practice and the discipline are the necessities to take you forward in your life. This is the training we provide by our Association" stated the chief guest Ms. Shantha Jayalath.
The Girl Guides who won in the provincial level participated in this competition. Seven provinces including Northern and Eastern provinces took part in the event. Subaragamuwa Province emerged 1st place and Western province managed to win the 2nd place while Central province placed 3rd in this year's competition.
"We do not see loveable, caring and well mannered ladies in the present society. The Girl Guide training produces loyal, talented, loveable and obedient ladies to the nation. I humbly requests the parents to allow their children to join the Association. A guide respect herself and seeks to understand all human beings" the guest of honour, the secretary of Uva Provincial council Mr. Sumith Suraweera noted.
The Girl Guide association of Uva province organized the above event in a grand scale and all the Girl Guide leaders and Guides gave their maximum support to make this event a success. The evening was brightened by colourful dances displayed by the competitors and the invitee troops.
Sujitha Miranda.