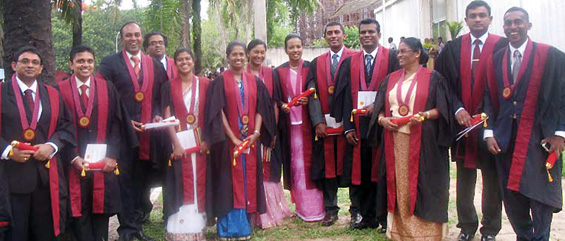 The MBA Kelaniya programme was commenced in 2006 by the faculty of Commerce and Management studies which was promoted through the India-Sri Lanka Foundation with academic support from Indian Institute of Management (IIM), Luknow, aiming to provide advanced managerial education to leaders working in a dynamic and competitive global business environment.
MBA Coordinator Dr. A Jayamaha said that "MBA Kelaniya is not just a MBA, it is with all utensils to sponsor the career in every possible way". The MBA-Kelaniya offered by the University of Kelaniya could be acknowledged as a MBA comparable to above type without any hesitation. It has an exceptional brand among many MBA's which has many distinct features which sharpens the MBA holder's whole character.
Foreign Industrial Training, Virtual Learning Techniques, Intimacy between well experienced External and Internal Teaching Faculty and students, Unmatched Research Component, Contemporary syllabus contents, Variety of Skill Building programmes and many more are the distinct features which differentiate the Kelaniya University MBA from the massive basket of MBA's. Undoubtedly all these features contribute to mold the candidate with required expertise for a professional and an academic.
Foreign Industrial Training component which is an essential and the most unmatched element exposes candidates to the dynamic international business world practically. The research section of the programme creates opportunity to investigate business problems systematically and search most suitable solutions, again which is very much essential in business problem solving and creating new business models and knowledge. Other skill building programmes includes Research sessions, Out Bound Training, Workshops and Entertainment programmes give the candidate the ideal learning environment.
This year for the fourth consecutive time Kelaniya MBA students visited Thailand and obtained an overall exposure related to different industries in association with Asian Institute of Technology (AIT), Thailand on 26-30 September 2011. The AIT training and exposure visit introduced participants to effective business models, innovations and management techniques currently adopted by leading Thai companies in a variety of sectors.
University of Kelniya proudly presents another group of MBA holders to the nation at the 56th Convocation of the University of Kelaniya, Sri Lanka held on 1st June 2011 at the Bandaranaike Memorial International Conference Hall (BMICH) and presided over by the Chancellor of the University of Kelaniya, most ven. Valamitiyawe Kusaladhamma thero. MBA Coordinator Dr. A Jayamaha stated that 'this year we are proud to present another group of MBA holders to the country's future and further he said, "MBA Kelaniya, is a gizmo to brighten the management career both professionally and academically."
If you have the drive and determination, join MBA Kelaniya and we are delighted to be involved as management team, help you to realize your dream. Visit our website : http://www.commerce.kln.ac.lk/mba/ or contact 011 5752389/2903512 for more information related to the next intake.