The limited resources in the world need to be controlled effectively in order to sustain human evolution, thus the birth of Management. According to the American Marketing Association, Management is defined as, "Guiding human and physical resources into dynamic organizational units which attain their objectives to the satisfaction of those served within a high degree of moral and sense of attainment, on the part of those rendering services". As the needs of humans became wants throughout human evolution, more specialization of Management was required. One of the most leading professions in the world today is 'Health Management'.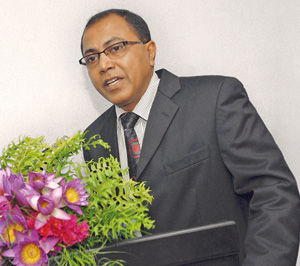 Dr.Kithsiri Edirisinghe-MBBS, MSc, MD (Medical Administration) Consultant Medical Administrator, Deputy Chairman IIHS
Demand for Health Management is strongly evident as the demand lists show a large amount of job opportunities in the USA, UK, Australia, Canada, New Zealand and other parts of Europe. Therefore, when one looks for opportunities for employment, especially to the mentioned countries, Health Management is one of the best options, due to the tremendous demand. Therefore it is important to have a look at this demanded Health Management career and the FAQs, (Frequently Asked Questions) of this profession are as follows:
What is Health Management?
Healthcare Management requires talented people to manage the changes taking place. In their roles, Healthcare executives have an opportunity to make a significant contribution to improve the health of the communities their organizations serve. This is an exciting time for Healthcare Management. Healthcare is changing more rapidly than almost any other field. The field is changing in terms of how and where care is delivered, who is providing those services, and how that care is financed.
What are the Industry Applications of Health Management?
Internationally Health Management is one of today's most dynamic and growing fields, with a wide range of opportunities and challenges. In the Healthcare arena the opportunities have expanded further from the traditional hospital care to Health Administration, Health Education and Promotion, Training , Research & Development, Health Planning Organizations, In-home Elderly care, Hospice care, Pharmaceutical Research and Medical Quality Assurance programs, Medico-legal Consultants, Medical & related training.
What are the Career Opportunities?
Healthcare Management is a huge, complex, and ever-changing field. In fact, healthcare services will increase 30 percent from 1996-2006 and will account for 3.1 million new jobs, the largest increase of any industry. They would work in operations and projects as Chief Operating Officers, Chief Financial Officers, Quality Mangers, Project Managers, Human Resource Managers, Supply Chain Managers, Process Improvement Consultants and Medical Information Managers.
Hospital Management: Focusing on hospital Administration/Management of Hospitals, health centers, elderly care centers and clinics
Public Health Services Management: Working in the public health sector in planning forecasting and managing health services.
Project Management: Projects related to establishing health care facilities and hospitals where they are involved in planning & design, equipment and training.

Healthcare Training Centers: Management of Medical, Nursing and other Health related schools.

Research and Development: Research and Development in medical administration and related healthcare services as research coordinator / administrator. The job opportunities created are immense in this field.

Quality & Risk Management: The role would envisage risk mitigation, quality management and infection control in healthcare settings. This is an area with a large amount of job opportunities.

Disaster Management: This is a very important area in Health Management which is in demand

Clinical & Management Research: Management of Clinical research is a must in today's world where Health Managers are needed and it is a fast growing industry.

Medical Consultants: They support insurance and other clients in lawsuits and related cases in healthcare services.
What is the Remuneration in Health Management?
Salaries are very lucrative across the globe. There is a high demand for qualified Health Administrators around the world as evident in the fact that the profession of Medical Administrator- (ANZSCO Code 134211) has been included in the Skilled Occupation List (SOL) published in Australia in 2011. Median annual salary of medical and health services managers in international settings were $80,240 (Rs. 800,000 per month) in May 2008. The highest 10 percent earned more than $137,800 (Rs. 1.3 M per month).
Source: Dr.Kithsiri Edirisinghe-MBBS, MSc, MD (Medical Administration)
What are the Pathways to Become a Professional Health Manager?
Having understood the international as well as local demand for Health managers, International Institute of Health Sciences (IIHS -www.iihsciences.com) the leading Health care education provider in Sri Lanka now offers Bachelor of Technology-Healthcare management program in collaboration of State University New York at Canton.
Bachelor of Healthcare Management
"The program covers both medical aspects as well as the management aspects which will give competencies needed by a Health Administrator/Health Manager to manage healthcare facilities" says Dr. Kithsiri Edirisinghe, Deputy Chairman and Head of Health Management Faculty of IIHS. This American Degree is offered by the State University of New York at Canton with a 3+1 pathway, where students could complete 03 years in Sri Lanka with a 06 months' work placement and the final year in USA. This final year includes another 06 months industry placement in Healthcare facilities in USA. Through this 3+1 pathway students could save tremendously as opposed to following the entire study program in USA & also the students could stay with their parents while they are reading for the 1st 3 years of the program. Many job opportunities await the qualified candidates in both local & international settings. With a BSc in Health Management you can go up to the MSc and even to the PhD level in Health Management while specializing in any area of interest.
IIHS will be conducting an "OPEN DAY" for Health Management programmes on 19th of November 2011 at 10.00am at IIHS (No 704, Negombo Rd, Welisara) where all interested students are welcome to participate. We would be disseminating information about the Diploma, BSc and MSc programmes, Profession of Health Management, Job Role of a Health Administrator, Job Opportunities and Demand in the International and local arenas.