How can a recruiter make higher education really meaningful to Lankan youth? How can he ensure every Rupee spent in higher education overseas turns into the best investment for a young person, his family and for the country in the long run?
When Priyanthi and Dissa (www.scholarshipsforusa.com) visited University of Cincinnati (www.uc.edu) in the summer of '07 as the first ever Lankan recruiters at UC they discovered a school not only ranked amongst the top 25 public research universities in US and the top 200 research universities worldwide but a school which prepares students for global employment like no other through its Cooperative Education Program (first in the US commencing in 1906 and currently ranked number 4 in the nation) as confirmed by there own student Joanna Lindamulage (class of '13) recently:
"Today I am so proud to say that I work as a co-op Chemical Engineer in a leading international American company earning more than $ 4,000 per month. I am only in my third year in my bachelor's degree yet I support myself including tuition. My co-op employer was so impressed with my work that they have offered me full time work upon my graduation at the starting salary of $ 88,000/A".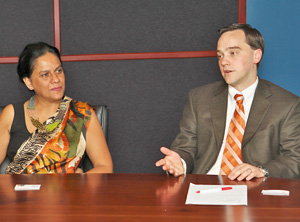 Jonathan Weller Director International Admissions UC with Priyanthi Dissanayake CEO Scholarships for USA(Pvt) Ltd during Jonathan's last tour of Sri Lanka.