A press conference was held on 01/11/2011 at D.S. Senanayake College Colombo 07 for the media, parents, teachers and children to brief on the new game handball that was introduced recently by the ministry of education.
Handball a new sporting event was introduced to Sri Lanka on the meeting held at the Ministry of Education on 2011.07.04. The 1st function to popularize this game was held at D.S.Senanayake college Colombo 7 on 2011.07.28 under the patronage of Hon. Namal Rajapaksa and Chairman of the Olympic Committee Mr. Hemasiri Fernando. To popularise this sporting game a work shop for 2 days was held at D.S. Senanayake College Colombo 07 for 36 Schools Island wide.
The National Handball Association has provided coaches to many schools Islandwide. This sporting event has become known today among schools with the assistance rendered by the chairman of sri lanka schools handball Association and the principal Mr. D.M.D. Dissanayake of D.S. Senanayake College, who is currently the president of the sri lanka school handball association.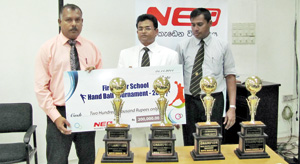 From left picture shows the chairman of NEO (Pvt) Ltd Mr.Raymon Wijetunga. handing over the sponsorship payment to the Principal Mr.D.M.D. Dissanayake on this left is the secretary Mr. Kapila Pradeep.