ESOFT will continue to be a Platinum Sponsor of EDEX Expo for the third consecutive year for 2012.
Established in year 2000, ESOFT is a trusted name for high-quality ICT and business education in Sri Lanka, offering a number of diploma and undergraduate programmes in Computing, IT, Business Management, Software Engineering, Web Engineering and many more fields. ESOFT annually welcomes more than 5,000 students of both urban and suburban youth, through over 36 branches spread island-wide.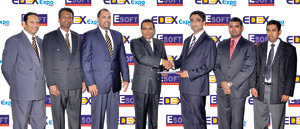 From left -Director - Colombo Event EDEX Najmi Yoosuf, Director- Sponsorships EDEX Hasith Premathilaka, Secretary- Royal College Union Manju Ariyaratne, Chairman- EDEX Kamal Abeysinghe,
Managing Director/CEO - ESOFT Dr Dayan Rajapakse, General Manager ESOFT Nishan Sembacuttiaratchy, Dr. Prasanna Lokuge CEO- ESOFT International (Pvt) Ltd.
ESOFT is the number one Course Provider in Sri Lanka for BIT External Degree programme of University of Colombo and is also the only Accredited Course Provider in Sri Lanka for British Computer Society (BCS), now referred to as Higher Educational Qualification (HEQ), programmes in Sri Lanka.
Commenting on the partnership with EDEX, Dr. Dayan Rajapakse, Managing Director/ CEO of ESOFT stated "EDEX is the ideal platform in creating knowledge and awareness among students and parents on ICT. It is the biggest educational exhibition in Sri Lanka. We were satisfied with the visitor numbers at EDEX 2011 exhibition. As such we have retained the Platinum sponsorship category this year too, as we want to benchmark our presence at the highest level at this premium exhibition".
"The BCS programme is the flag-ship programme of ESOFT. EDEX draws in a wider cross-section of participants and we are able to market all our programmes to a wider youth audience. The timing is also just right for our intake, as we can attract post A/L students. We can also address the O/L students and parents at the same platform", Dr. Rajapakse observed.
Noting of ESOFT's contribution to ICT drive in making Sri Lanka a knowledge hub, Dr. Rajapakse stated "ESOFT has been instrumental in designing and re-evaluating its curricula to keep abreast with latest developments in the ICT arena. The academic panel is highly qualified and collectively contributes to structuring of the syllabus to suit the demands in the market. Currently, there are only 45,000 ICT professionals in Sri Lanka, and this number should ideally be much higher.
We feel we have a responsibility to educate and produce high calibre ICT professionals".
EDEX is the pioneering higher education and careers exhibition in Sri Lanka organized by Royal College Union attracting the largest and most diverse number of local and overseas participants held annually in Colombo and Kandy.
Acknowledging the sponsorship, Chairman Edex Kamal Abeysinghe said "Over a decade ESOFT has provided affordable IT courses of value enabling youth to secure gainful employment. We greatly value the continuous support ESOFT has extended to EDEX Expo as a longstanding participant and sponsor since inception".
The 9th EDEX Expo will be held on January 20th, 21st and 22nd 2012 at BMICH Colombo and on January 26th & 27th at the Kandy City Centre, respectively. Email info@edex.lk Website www.edex.lk