Cross Border Academy (Private) Limited founded by young entrepreneur Yatila Wijemanne, celebrated its 2nd Anniversary in October. Established in 2009, Cross Border Academy is one of the primary education providers in hospitality related programmes. With Sri Lanka's tourist sector showing rapid growth and immense potential for the future, there has been a tremendous increase in new opportunity for those seeking employment in the hospitality industry. Cross Border Academy gives interested individuals the chance to obtain an international recognized qualification, as well as the opportunity to complete their relevant studies at one of Asia's largest institutes; the Wissen Academy and Dimensions Education Group Singapore.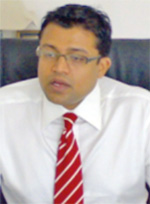 Cross Border Academy celebrates 2 years with 200% growth
Yatila Wijemanne said "Everything we do at Cross Border Academy is set to match international standards and we are the only institute of our kind to offer top quality education with a emphasis on individual attention and our own distinctive style, that is renowned worldwide. At CBA we also give students accesses to the very best facilities and resources, which are essential for anyone planning to work in the hospitality industry". Furthermore, Rauf Marfyne the Principal and Head of Academics highlighted "Our vision also extends to a more national cause and as the local hospitality industry continues to grow; we aim to provide the industry with highly trained professionals, which in turn will help raise the standard of the entire hospitality sector, making Sri Lanka a more sought after location for foreign visitors and bringing much needed foreign revenue into the country".
Cross Border Academy is tied up with a number of leading hotels and hotel chains in the country and graduates from the Academy directly enter the for industrial attachments. Certain highly qualified students are sent for international training via partner educational institutions as Breyvan Tan the Founder of Wissen Academy noted "The success story of our graduates and the remarkable growth of CBA enrolments are testimonies to our implementations and Yatila Wijemanne's foresight. But these are just fuels added to our quest and motivation to all CBA's staff in continuing the mission and bring the benefits to more students". Furthermore, CBA has embarked on in-house corporate hospitality training to up-skill the knowledge of the staff.
In conclusion, the service undertaken by Cross Border Academy would undoubtedly provide the tourism industry with the much needed human capital and further act as a catalyst in assisting the youth of this country to seek training and employment in star class hotels.