Saturday, 15th October was a truly remarkable day for the youth of ICBT BM 36 batch who got together in a charitable cause to raise funds for the Maharagama Cancer Hospital. The event was most successful and Havelock Road was seen brimming with girls and boys working side by side with full enthusiasm to stop and wash as many cars possible with the intension of raising as much funds as they could.
All proceedings of the car wash was to fund the children's ward at the Cancer Hospital who are in urgent seek of funding. With methodical implementation of the entire event the students, together as a team with the positive contribution from generous passerby was victorious in achieving their target.
Eight and a half hours, from 8.30 am till late 5 pm they were seen working tirelessly in high spirits to achieve their goal.
The inspiring aspect of the entire event was that the batch of students were fully aware of and appreciated the cause to which they were trying to raise funds for. "Hope Together" was what they named this event which was to be their Managing Activity and seeing them working together the "Hope" and the "Togetherness" were the key ingredients that made this charitable cause a true success.
Sally Ekanayaka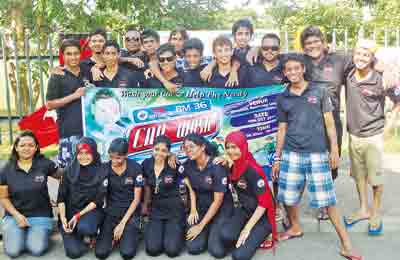 ICBT BM 36 students group picture after the massive car wash from left to right sitting Upekha,Aashiqa,Arshani,Nirruthika,Tharany & Nashmy Standing first row ,left to right Achintha, Aqeel, Mafaz, Greame, Aadhil, Kanishka, Sharaff & Adam second row standing ,left to right Yaasir, Nihan, Thiru, Zubair, & Nabeel