To foster interest in recognizing future marketers, The Chartered Institute of Marketing (CIM) Sri Lanka Region has taken the initiative to recognize students excelling in the area of marketing in national universities by way of gold medals and cash prizes. A memorandum of understanding was signed between The CIM Sri Lanka Region and University of Ruhuna on 2nd October 2011 at university premises.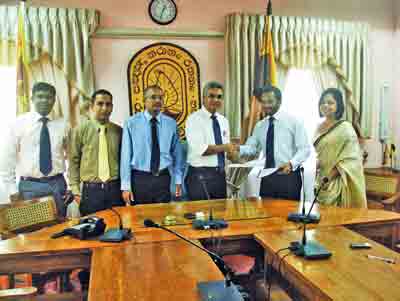 "The main objective is to recognize future marketers in our endeavor to uplift the standard of marketing professionalism in the country". "We look forward to rewarding students with the highest results in the marketing departments of national universities at annual university convocations", stated AnuradhaEdirisinghe, Head of Education, CIM Sri Lanka Region.
CIM Sri Lanka Region has already signed memorandums of understanding with University of Sri Jayewardenepura and University of Kelaniya. "We have being awarding batch top marketing students at these universities for 3 consecutive years; we hope to extend this initiative to other state sector universities in due course, thereby encouraging students to select marketing as their preferred career choice", he further stated.
The proposal to recognize batch top students in marketing was submitted by CIM Sri Lanka Region and received confirmation for implementation by CIM, UK. CIM is ready to take on several new initiatives in developing marketing knowledge and promoting the marketing profession in Sri Lanka.
Subsequent to the completion of the Bachelor Degree in Marketing Management, these students are able to familiarize themselves with the CIM qualification easily, as it offers exemptions to the students. "CIM Sri Lanka Region intends to conduct leadership training programmes and career guidance sessions for students as well.
CIM being the world's largest professional body in marketing is geared to help qualified students in the marketing industry. CIM Sri Lanka Region believes the CIM qualification will help them progress in their career to aspire for the Chartered Marketer status. CIM is the largest and most prestigious professional body of marketing in the world which serves over 60,000 members in more than 80 countries around the world; it is also the only professional marketing body that offers the Chartered Marketer status to individuals.