Prudential Shipping Lines said last week it handled what it called the biggest cargo operation so far at the Hambantota Port, which is relatively a new port and hasn't seen many ships calling.
The operation involved two heavy lift ships M.V. HHL Hong Kong and M.V. Beluga Singapore, transferring a cargo of 12,000 CBM of machinery from one ship to the other (transshipment) by way of double banking the two ships.
The cargo consisted of Heavy Machinery/ Project Cargo, which included more than 10 pieces with a weight of 200 plus tons each and the operation had to be meticulously planned to avoid any damages to both ships and the cargo, the company said.
The operation was carried out and concluded under the supervision of a specialist Cargo superintendent who arrived from Germany.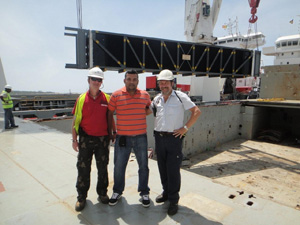 Picture shows from left -- Capt. Peter Stenske - Port Captain - BBC Chartering; Anton Rodrigo – AGM Prudential Shipping; and Capt. Andreas Falkenberg - Super cargo - HHL GMBH.