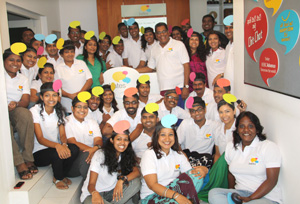 Bates, the Asia-focused communications network that had been driving the message of change, this week executed a simultaneous region-wide re-launch of its corporate identity to reflect an enhanced strategic approach to brand communications. The staff of Bates Strategic Alliance Sri Lanka joined the region-wide re-launch in an internal staff event and plans to roll out its message to their clients and the marketing community at large.
Bates' Asia-Pacific Chairman Tim Isaac, who led the regional strategy team including regional ECD Sonal Dabral and regional Planning Head Dheeraj Sinha on the re-launch project, commented that "Brands that engage with their communities can far outperform those who are still talking at broad audiences.
Technology increasingly allows us to do this. Our futures in marketing will increasingly be about a fusion of technology and creativity."Commenting on the relevance of the re-launch, Chairman and CEO of Bates' Sri Lanka business Nimal Gunewardena said: "We have been saying all this while that marketers need to review and change their approaches of communicating with their audiences based on the rapid changes in the field of communications driven by technological, social and environmental change.
Pure broadcast advertising is having declining returns with the proliferation of channels and the fragmentation and inattention of audiences. Audience engagement is the need of the day, and marketers and agencies must drive interesting brand conversations among its consumers and potential audiences if brands are to be talked about, recommended and adopted."