There's a fine line between adventure and plain stupidity; my last hike to World's End was a tightrope walk on just that line. Yeah, that'll teach me to be impulsive. Though, with luck on my side, I managed to get home in one piece. So this time around I— your guinea-pig-budget-traveller, will give you tips on how not to hike to World's End.
The plan was to go to Ella on the first day and trek to a waterfall, check out a tea estate and get to Nuwara Eliya by evening so we could hike to World's End (in Horton Plains) the following day.Here's how it went...
Day One
Having left the Fort railway station at 6am, we were still hours away from Ella at 2pm. Eight hours of sitting cramped on the footboard (brilliant in regard to the view but an adverse butt numbing experience) we'd had enough. The next stop being Ohiya, which is located along Horton Plains, we impetuously decided to hike to World's End on 'Day 01' instead; little aware that perils that lay in wait.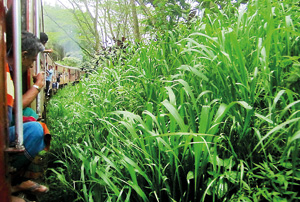 On the footboard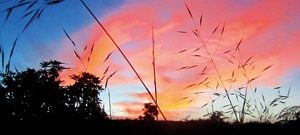 Sunset at World's End
As soon as we hopped off the train at the Ohiya station we were greeted by a 'Namaste' and a wide stained-toothy grin. An unkempt little woman had appeared beside us suspiciously like a malefic genie; minus the lamp. This is where the extortion begins; everyone from here to World's End and back will try to make a fast buck out of you.
With a plastered grin stretching remarkably wide across her face and a singsong voice, she told us that we were stranded and the only option we had was to stay at her 'guesthouse' that was nowhere in sight.
What we did learn from her rambling was that we were late as the gates to the World's End trail closes after 3pm. So we hired a three-wheeler and sped to the trail.
The World's End trail is a circuit. The trail is quite interesting with a variety of wildlife such as Samber (a large deer) grazing in close proximity of hikers and jungle fowls darting past. 4 km down, beyond Baker's Fall, you will find the World's End precipice, a 870 m (2,854 ft) drop. No more than 1 km on you'll find 'Lesser World's End', a 270 m (886 ft) decline.
By the time my friend and I reached the end of the circular trail the sun had already begun to set. It made for an awesome photo-opportunity but we were surrounded by darkness, mist and strong chilly winds only minutes later.
Back up at the entrance; the three-wheel driver popped up next to us (the people here are pros at sneak-attacks, I tell you). He insisted that our only way out was to return to Ohiya with him and stay at the dubious 'guesthouse'. A few others had us surrounded like vultures to carrion ready to peck a few thousands off us to take us to Nuwara Eliya.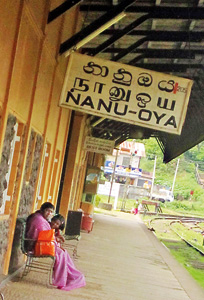 Nanu Oya Train Station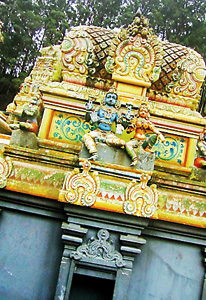 Seetha Eliya Temple
Not too far away a young couple noticed us dithering and asked if they could help us. They were the last vehicle out of the nature reserve and as luck would have it, they were heading to Nuwara Eliya. They offered to give us a ride and we took the opportunity, leaving the group of the disgruntled buncos behind. We spent the night at 'White House Inn'.
The rooms at the Inn are pretty basic and are equipped with the bare essentials- thick warm blanket, hot water and clean bathrooms. A double room will cost you Rs. 2500 but it's the off-peak season and we haggled it down. Coupled with piping scrumptious meals and friendly staff, it's a decent place to stay at.
Day Two
After a quick breakfast at the Nuwara Eliya town, we took a bus to Nanu-Oya to book tickets for our journey back to Colombo. The counter only opens at 12pm but we managed to talk the station master into reserving us tickets nevertheless. We made our way back to Nuwara Eliya town and rented geared bicycles for Rs. 1000 each from the Alpine Hotel.
However, our exploration of the town by bicycle was cut short by the rain. Undeterred we took a bus to Seetha Eliya about 15 to 18 km from the town. You can take a bus heading to either Bandrawla or Badulla. We made a pit-stop at the 'Strawberry' shop located just a bit past Gregory's lake.
For Rs. 190 you can get a bowl of strawberries and cream; a refreshing pick-me- up. For no extra charge, you can ask for chocolate topping but I'd advise you against it—it isn't chocolate and it tastes awful.
The Seetha/Hanuman Temple located in Seetha Eliya is worth checking out. The amiable priest can tell you all about the amazing Hindu legend of how Seetha was captured by Ravana and brought to this site in Sri Lanka; and how Hanuman helped Vishnu rescue Seetha— his wife. Supporting the legend are large deep footprints in a rock below which are said to Hanuman's and uniquely black soil from when Hanuman set the site ablaze.
Taking a bus back, we were in Nuwara Eliya town by 8pm to get a bus to the Nanu-Oya station. The ticket counter opens at 9pm, but the mail train from Badulla to Colombo was delayed by an hour. We left Nanu-Oya at 11pm and got to the Fort station at 7am the next day.
The World's End hike is pretty easy and takes only 3 ½ hours. If you follow the plan on the map, the World's End/ Nuwara Eliya trip would make for a good outdoorsy experience that can be completed over a weekend; whether you're a hiking noob, physically unfit or... both.