From Toulous-Lautrec to Shepard Fairey, posters have been a medium of contemporary art for quite some time. In Sri Lanka we are more accustomed to posters of another type. Political campaigns, funeral announcements and mass media advertising lead the majority of Colombo residents to spray paint their walls with 'Stick no Bills' signs.
Coincidentally even our printer didn't quite conceive why we would want to offset print only 20 pieces of one particular poster. This made it only more tempting for us to stage this particular show, working with a combination of incredibly talented artists who all stand out through their designs, illustrations, photography, etc.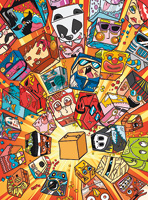 Samuel Niruben: Influenced by street art, graphic novels
Locally we boast an untouched wealth of expression that exists in the growing community of graphic designers and illustrators. It was during our last event that the idea came about to step out of our existing realm and work with some incredibly talented designers on this show, 'Paper Canvas'. The title is self explanatory, but plays on the fact that these works mark the transition we are making towards new mediums of contemporary art locally.
Nisayuru Basnayake, currently working at Triad as an Art Director has sketched from a very young age and continues to work on new pieces in his free time; be it on a sketchpad, a canvas or his computer screen. He uses the sketches, paintings, and poster designs as a medium to translate the swatches of everyday life that inspire him.
Asvajit Boyle and Deshan Tennekoon specialise in book design. Amongst other commissions, they have produced histories for John Keells, the Wolvendaal Foundation and the Ceylon Tobacco Company; a coffee table book for the Swiss and Austrian Red Cross, and the publication design for The Galle Literary Festival. They are currently designing one of the two annual special editions for Raking Leaves and what they suspect is Sri Lanka's first trilingual dictionary.
Jacob Pringiers , a designer born in Gent, Belgium spent most of his childhood in Sri Lanka and to pursue his passion for design lived in Italy, Switzerland and in California, where he studied at the renowned Art Center College of Design. After graduating, he moved back to Milan and opened his design studio, together with Luca Casini.
They successfully collaborated on diverse design projects for companies such as, Colgate, Nike, Luxottica, Wmf, Bic, Riva, Fiat, to name but a few and won a number of industry awards for their work, the most recent being the prestigious Trend Product of the Year award, 2011 in Frankfurt with 'LULU', a collection of ceramic vases.
| | |
| --- | --- |
| | |
| Asvajit Boyle and Deshan Tennekoon specialise in book design | Dennis Muththuthanthri: Self-taught artist |
Mika Tennekoon works as an illustrator and graphic designer. Spending six years in advertising in graphic design Mika has now an eclectic portfolio ranging from illustrations for London based entertainment and culture magazine, The Other Side, and the London Arts Council.
A member of the newly established Collective of Contemporary Artists in Sri Lanka, her work tends to focus on the emotional and the more obscure and quirky details of everyday life. She is currently working on three children's book illustration projects.
As an artist, Dinesh Joseph Pereira is influenced by general aspects of life and drawn to visually dramatic and contrasting themes, usually loud images and repetitive designs and positioning.
Samuel Niruban is heavily influenced by designer toys and collectibles, street art, Shepard Fairey, Marko Djurdjevic, graphic novels and uber cool fashion photography. He has a simple engine that drives him in everything he does: Psalm 413: "For I can do all things through Him, who gives me strength".
Dennis Muththuthanthri is a self-taught photographer, graphic designer and artist. He has worked on the book projects for artists Senaka Senanayake and Saskia Pintelon. He is the photographer of all Paradise Road Company projects and hotels.
Paper Canvas is on at the Saskia Fernando Gallery, 61, Dharmapala Mawatha (opposite the Levis Store) Colombo 7, and will remain open until September 30.