ICBT Campus the leading private sector Education Institute in Sri Lanka was awarded by Edexcel, UK as Sri Lanka's largest center with most number of students enrolled for Higher National Diploma (HND) programmes.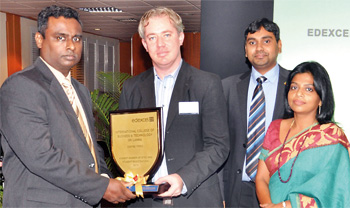 Mr. Mark Vallantine - International Customer Relations Manager Edexcel presenting the Award of Most Preferred Edexcel Centre in Sri Lanka to Mr. Mohan Pathirana, CEO/Executive Director of ICBT Campus, Mr. Suriya Bibile - Regional Development Manager - Sri Lanka & Maldives & Ms. Premila Paulraj - Territory Manager - India Subcontinent are also in this picture.
This award is testimony for the quality and preference by students to study at ICBT Campus for HND programmes instead of other Institutes offering HND Qualifications. The award was presented to ICBT Campus at a function held at the Galadari hotel on the 9th of September 2011.
ICBT Campus is a pioneering institute in Sri Lanka to offer BTEC HND programmes and have produced more than 10,000 HND holders who have gone-on either to pursue higher studies or for employment.
ICBT Campus with its branch campuses in Mount Lavinia, Colombo 4, Kandy, Matara, Galle, Nugegoda, Negombo and Jaffna offers the widest range of BTEC HND qualifications in Sri Lanka which includes IT/Computing, Business Management, Construction/Quantity Surveying, Engineering (Civil, Mechanical, Electrical/electronic, Biomedical, Automotive, Telecommunication & Mechatronics) Psychology & Early Years Education.
BTEC HND's are a cost-effective fast route to bachelors Degrees and the worlds leading Universities in all continents accept HND holders in to the final year of the degree programmes. ICBT Campus also offers the Final year Degrees in Sri Lanka for those who complete the HND's in association Middlesex University, Liverpool John Moors University and Sheffield Hallam University (all from UK). Most students who opt for the Degree soon after the HND at ICBT has excelled in their studies winning top honours and scholarships from British Universities.
ICBT Campus has state-of-the-art facilities in all branch Campuses including air conditioned lecture halls, labs with modern computers, project labs, libraries, cafeteria and student recreational facilities to offer the best learning experience to students.
After A/L's, ICBT Campus is best institute for students to study for Edexcel BTEC HND programmes in Sri Lanka. ICBT Campus also offers you a brand new "Netbook computer" for all registrations of Higher National Diploma's (Conditions Apply). More information about HND programmes at all centers can be obtained by calling ICBT Campus Hotline:- 011 - 4 210021 or by visiting the website @ www.icbt.lk
British Engineering degrees & HNDs @ ICBT Campus
Now that the A/L are over, only a selected few who have done tremendously well would have the opportunity to enter the local government system to study for a Bachelors Degree in Engineering. It is the dream and aspiration of most student who sits for the GCE A/L examination to become an Engineer, likewise it is also the wish of every parent to see their children becoming graduates,
But not all get the opportunity even if one does well in the A/L examination. High cut-off marks in the local government Universities and the inability to bear high costs associated with going overseas to obtain Engineering Degrees kill the dreams of vast majority of students of obtaining a Degree and becoming Graduates to face the challenges of the future.
ICBT Campus the leader in private sector education in Sri Lanka has been offering great opportunities for students to obtain world class British Engineering Degrees in many disciplines such as Electrical/Electronics, Civil, Mechanical, Automotive & Bio-Medical Engineering in association with some of the best British Universities and Edexcel; thus helping students after A/L`s to become Engineering graduates at affordable costs.
Studying at ICBT Campus for British Engineering Degree programmes has many advantages, compared to spending millions of Rupees in traveling overseas to study for Degree programmes. One could complete a bachelors Degree in Engineering at a fraction of the cost. There is no compromise in quality or delivery of the programme. All programmes are quality assured and academically controlled by the respective Universities and degrees are conferred as "Internal Qualifications".
In a nutshell the foreign universities in partnership with ICBT campus determine quality in all aspects of the delivery of programmes in Sri Lanka and they use ICBT Campus to deliver and maintain quality and reputation. Local lecturers who deliver the degree programmes are approved by the partner Universities in addition to vigorous on-going evaluation programmes. Degree programmes at ICBT Campus can be fully completed in Sri Lanka or students have the right to transfer 100% credit to respective partner University in UK at any stage to complete the degree. Or the student could even complete the degree in Sri Lanka and attend the graduation ceremony in UK to receive the degree which many student and parents do. ICBT also holds an impressive Graduation ceremony in Sri Lanka for those who wish to obtain the Degree in Sri Lanka. This graduation ceremony is well represented by the foreign partner Universities which include Vice Chancellors, Deans and programme leaders giving the student the total experience of studying for a Foreign Degree programme.
ICBT Campus offers Engineering Degrees and HNDs in Colombo and Kandy. Facilities at ICBT Campus include modern A/C Lecture halls with audio visual equipment, modern Computer labs with latest computers, comprehensive libraries at all branches, cafeterias, and recreational activities.
Recruitment for Engineering Degree & HND programmes for those who have sat for the GCE A/L examinations are now open.
In just two and a half to three years you also can become a Graduate with a British Engineering Degree, who will be a cut above the rest and be sought after by many local and foreign employers. More information about ICBT Campus and the degree programmes can be found at www.icbt.lk or telephone 4 654 654, 4 210021 (Colombo) or 081 448 2000 (Kandy) for enrolment information.