MATRIX is an IT training institution which has trained over 7000 students for the past five years. The institution is headed by a veteran in IT education in private sector Mr.Viraj Pinto Jayawardena. The Academic faculty has 20+ members with combined experience of over 50 years. MATRIX head office is centrally located in the heart of Colombo, that is in Colombo 04 and also it has two main branches in Kandy and Matara.
Chamal Ayesh Wickramanayake
BIT 1st Class holder at the 2011 Graduation "MATRIX is the place I started the BIT - UCSC Program and also the place I started my career as a Software Engineer"
The Head office currently has over 14 fully Air conditioned class rooms and an auditorium which can accommodate over 150 students simultaneously. The institution further has two computer labs with full internet access and also a well stocked library. Further it has its own software development company which offers opportunities for the successful graduates.
The main education programs at MATRIX are:
BCS Chartered Institute for IT (CIIT) - Higher Education Qualifications (HEQ)
This is formally known as the British Computer Society Professional Examinations is currently offered in three levels namely Certificate in IT, Diploma in IT and PGD in IT. The HEQ examinations are offered twice a year and students can complete the full examinations in just two years of study. Also the BCS HEQ is approved by the University Grant Commission of Sri Lanka further strengthening it's recognition.
As parents or guardians your main interest would be to ensure an excellent future for your child, therefore you will want to provide them the very best education and training at any cost. The BCS CIIT HEQ examinations provide you to achieve this very easily. CIIT - HEQ exams gives your child the same or even a higher recognition than any other program or degree in IT due to its recognition locally and overseas. The most importantly the cost of this program is really economical which is less than LKR.250000/- for part-time basis including course fee and examinations fee and for fulltime basis it will cost less than LKR.400000/- including course and examinations fee. In full time program there are many value added courses which will be offered with the BCS subjects. MATRIX offers a comprehensive study pack for a student which is even recognized by many course providers overseas. This includes study text, Power point slides, assignments and also the mock exams. If you need further information about the program please call on 0714317924.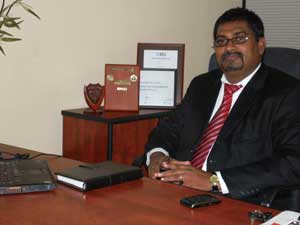 Mr.Viraj Pinto Jayawardena BSc. Hons (Computing and IS), MIEEE, MBCS CITP Chaiman/ Managing Director 15+ Years of experience in IT education
Bachelor of Information Technology (BIT)
MATRIX is also very well known among students for the BIT Degree offered by the University Of Colombo School Of Computing and currently trains over 800 students for the program. Students who wish to obtain an academic qualification from one of the world's recognized universities namely the University of Colombo can do so by starting the first year of the program with MATRIX by only paying LKR 10,000 as the first installment and the balance in installments.
If you require further information about the BIT program you can contact the BIT Coordinator on 0714317930 for further details.
Foundation of Information Technology (FIT)(UCSC)
This aims on creating computer awareness together with skills in Mathematics and English. Any person who is interested in following an undergraduate course can follow this as a foundation. It is also an alternate qualification for those who do not have A/L's to enroll into the Bachelors of Information Technology (BIT) program. They can sit for FIT exams and then start the degree. If you wish to obtain more details regarding this you can contact the coordinator on 0714317926