An interview with Mr. S. H. A. M. Abeyratne, Director General, The Institute of Bankers of Sri Lanka (IBSL)
Parents make a concerted effort to ensure that their children qualify to enter university to receive a higher education. This is clearly visible when one looks at Sri Lanka's system of education.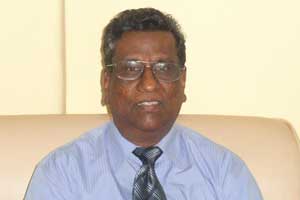 S. H. A. M. Abeyratne, Director General, The Institute of Bankers of Sri Lanka (IBSL)
The key reason for working towards achieving this objective of a university education is the keen interest shown by the present-day younger generation to secure better financially rewarding and stable jobs, seek greener pastures overseas or vie for elevated positions within the company one already works for.
Middle and low income families cannot afford the luxury of sending their offspring to such foreign-based universities because of the enormous cost factor. As an alternative, they continue to turn to The Institute of Bankers of Sri Lanka (IBSL) to give their children a quality professional qualification which helps them to reach the pinnacle of success in their chosen fields in the long-term.
Q: What are the study programmes IBSL offers to meet the aspirations of students and also assure parents that their children can secure a quality, recognized professional qualification?
A: IBSL is one of Sri Lanka's premier educational institutions engaged in the dissemination of information relating to Banking and Finance. Founded in 1964, IBSL has been adopting to the needs of the market by tailoring its study programmes on par with evolving trends during the past 45 years.
As a professional institute in the area of Banking and Finance, IBSL has produced a number of Diploma and Certificate holders and Associate and Fellow members for the banking and finance sector. This input has helped this vital segment to continue business with a greater degree of professionalism by enhancing efficiency and productivity.
IBSL study programmes are clear cut in terms of the time factor, language and cost. With two cycles beginning March and September each year, the duration of the certificate and diploma courses is one year and two years, respectively. Students who complete their diploma in two years can sit their Master's degree. Lectures are conducted in all three streams, Sinhala, English and Tamil.
Under a facility extended by Northumbria University, UK, students who complete 50% of the IBSL diploma course can join the University's honours degree for the final year. This means an exemption of two years course content for these students. After completing the IBSL diploma, they can also read for their MBA. This diploma is also recognized by the Sri Jayewardenepura, Colombo and Kelaniya Universities for the MBA.
Q: What are the basic qualifications required by students to register for these study programmes at IBSL?
A: The basic qualification is G. C. E. (O/L). Only students who have passed six subjects in a single sitting with five credit passes, inclusive of Maths and Language qualify to register for IBSL courses. Otherwise those with two credit passes in the G. C. E. (A/L) together with five credit passes in the G. C. E. (O/L), inclusive of Maths and Language, can apply. Or else, students should be registered for a degree programme with a recognized university in Sri Lanka. However, these qualifications are not required for registration if a person is employed in a bank or a financial institution.
Q: How can an aspiring student work towards academic excellence at IBSL?
A: Students planning to complete a degree programme within four years can, by joining IBSL, opt to read for a degree within a shorter time frame. They can do this by initially obtaining the Certificate of Banking and Finance (CBF) awarded by IBSL within 6 or 12 months. They can then follow the Banking and Finance diploma and enrol into the final year of Hons Degree in Leadership & Management or Business & Management at the Northumbria University UK. This means that students can enter the final year within about 18 months and complete the degree in another 10-12 months.
With the Banking and Financial sector expanding rapidly, the demand for manpower is increasing tremendously. About 4000 to 5000 employees who retire from the sector each year have to be replaced. In the North and East alone, 214 new bank branches have been opened after the dawn of peace.
What is important is that students should be able to finish their studies either professional or academic within a shorter period before they reach 26 years of age. The IBSL has provided that opportunity by offering professional courses to end up with a degree. However everything depends on how they look at their current status and future vision.