Dr. Chris Nonis, Trustee of the Ramphal Centre for Commonwealth Policy Studies, an independent think tank on policy issues for the Commonwealth and its member states, addressed the Ramphal Centre Commission on Migration and Development at Rhodes House, Oxford recently.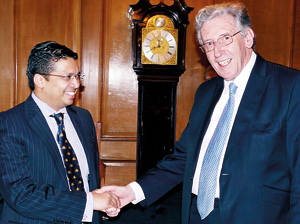 Picture shows Dr. Chris Nonis with Lord Howell of Guildford, Minister of State for the Foreign and Commonwealth Office at Rhodes House, Oxford.
Patrons of the Ramphal Centre include many distinguished dignitaries including former Singapore Prime Minister Lee Kuan Yew. Dr Nonis, Chairperson of Sri Lanka's Mackwoods Group and Sri Lanka's High Commissioner-designate to the UK, spoke about the role of the migrant Diaspora as agents of development for Sri Lanka and the manner in which their potential could be harnessed to assist Sri Lanka's programme of development in the post-conflict era. He articulated the principles of the "Mahinda Chintana" and President Mahinda Rajapaksa's vision of achieving growth with equity, and the imperative of bridging the urban-rural divide.
Dr. Nonis noted that what Sri Lanka needs now is to be given the graciousness of heart and generosity of spirit so that all its communities have the opportunity, the time, and the space, to join together and rebuild the nation.