"You have to come to an understanding that a sense of your innocence will be lost" she says in a regretful yet matter-of-fact tone.
We're not talking about anything scandalous, but it is impressively evident that in the five years between being the girl in the yellow bathing suit with a flower in her hair and the woman getting up-close and personal with Emraan Hashmi in the Bollywood film 'Murder 2', Jacqueline Fernandez has grown up a lot. "I think then, like everyone when they're younger, I was naïve, " she smiles. "I was just a much younger girl, but I feel now that I can say I am definitely a woman."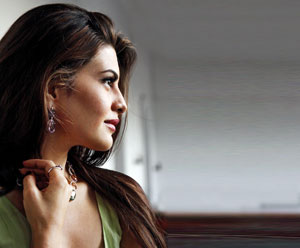 A lot of hard work: Jacqueline in Colombo. Pic by M.A. Pushpa Kumara
Not that she has lost any of her bounce or that characteristic girlish gaiety. "I'm not saying you have to change yourself," she says earnestly, speaking of how she has matured over the years with experience, reassuring us that "my father would slap me before I started acting all hoity-toity and all, but you've got to know the kind of direction you're going in.
That's how it is." And testimony to that is the fact that the room that was dull and lifeless half a minute before was lit up as soon as she walked in, running up to friends and greeting them with dazzling smiles and laughter.
What has driven her return to Sri Lanka, (apart from being on the panel of judges for the Miss Sri Lanka for Miss Universe pageant for 2011) is the desire to return to her motherland what she claimed from it five years ago, when she won the Miss Sri Lanka for Miss Universe title.
Speaking of her post-Miss Sri Lanka -Mumbai experience Jacqueline says "I went in thinking 'I've got a good smile and I've got great PR, I'm going to be fine' but I wasn't. It's a business, an economy. People don't really care about you and no one's out there to make friends," she continues. "It's not a fairytale, it's not about candyfloss. It's a mature world, and you need to be prepared for it."
But that was not what it was in her case, it seems. "I was not prepared." So then how did she manage not only to break into Bollywood but also make ripples-turning-to-waves in such a short time? "Actually from a young age I wanted this whole world of glamour, it was something I wanted to do," she shares unabashedly. Soon after graduating with a degree in Mass Media from the University of Sydney she returned to Sri Lanka to work on television and broadcasting with Young-Asia Television as well as ETV but she makes no bones about her overarching desire.
"I think when you have an ambition and if you are ambitious, destiny will somehow find a way to lead you back to it. Not in a magical fantasy kind of way, but psychologically. I always wanted to act from a young age, and I had this at the back of my head. So whatever move I made was calculated to get me there."
"It's not about opportunities and it's not about luck," she says firmly. There is in those graceful limbs and liquid-brown eyes, a split-second of tension and flash of clear determination as she says, "It finally comes down to a lot of really hard work."
The apparent change in her image has fuelled quite a lot of talk and newspaper column inches. "It's to be expected," she responds. "In this industry, you can say (in chirpy voice) "I love chocolate" and it can be interpreted as (in sultry voice) "I lurve chocolate"; in a completely different way. It's a part and parcel of the industry. We re-invent, we evolve. If you don't, your shelf-life becomes short and people get bored and move on to the next cute thing or pretty thing."
It does affect her, she concedes. "It still affects Amitabh Bachchan, it still affects Sharukh Khan, so the newspaper first thing in the morning is not a good idea. There are times that I've cried about it, but then I've also laughed about it you know? You get used to it. There's some stuff that's been hurtful, because apparently people forget that you still have parents, that you still have self-respect. They tend to forget these things."
In recognizing the sheer competitiveness of the industry she has chosen to make her mark in, Jacqueline will not jump to encourage others. "It's difficult," she shares hesitantly, "and I do feel that I struggled, and at times I did wish that I had more opportunity to gain experience."
Her bid then, is to try and make things easier for the newer models interested in breaking into the international arena. "I know a few girls who went to India to try things out there," she confides, "but they didn't know what to expect, and when things came as a shock, it made them turn back." She is determined to commit more time from her tight Bollywood schedule, to improving the standards of the Sri Lankan glamour industry.
"The problem with the glamour industry here is people don't make money," she says bluntly. "So the attitude is 'what the hell are you doing?' It's not seen as a decent job, it's only a hobby." Jacqueline's theory is that if the Sri Lanka industry is expanded substantially, sufficiently and efficiently, standards will rise and chances for international break-throughs will increase.
"The reason people get into any business is because the money is still good. That makes you successful and it makes you powerful," she says, adding that "right now, our glamour industry does not have that, there's no money involved. This is why people look down on it, because it seems frivolous."
"I get asked the question a lot when I come here," she says, "why I would be a model if I have a degree because 'It's for bimbos and airheads'. But look at people like Naomi Campbell and Kate Moss" she continues defiantly, "they are super, super millionaires! You wouldn't ask them that question."
"It's a two way thing though, and it will take a long time" she admits, adding firmly "but we're making a start here. My intention right now is to really help create an international supermodel from Sri Lanka and I think once that happens, it's going to be a wake-up call for everyone who thinks this industry is not something good enough to go for."