MONACO, July 2 (AFP) - Monaco's Prince Albert II married South African beauty Charlene Wittstock and made her his princess, throwing open the gates of his palace Friday to celebrate with the entire Mediterranean nation.
All 7,810 adult Monegasque subjects were invited to a buffet reception at the Grimaldis' medieval palace, overlooking the tiny tax haven's main marina, and the crowd cheered when the nervous-looking couple made their vows.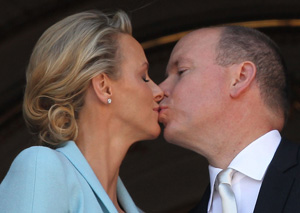 Prince Albert kisses Princess Charlene on the balcony after their civil wedding on Friday in Monaco. AFP
"Once again in its seven-century history the Grimaldi dynasty is opening up to a new world," declared Philippe Narmino, Monaco's senior legal officer and registrar, as he conducted the civil ceremony.
"In joining it, mademoiselle, you are bringing the freshness of your youth, the richness of another culture, and the modernity of your gaze," he said, as Charlene -- clad in a powder-blue gown she designed herself -- smiled.
Asked whether she accepted Albert's hand, she responded firmly "Oui" and the groom kissed her hand, as around 90 close friends and family looked on and Albert's sister Princess Stephanie dried her eyes with a hanky.
The throne room ceremony was transmitted to the crowds on giant screens, before the couple emerged onto a balcony, shared a brief kiss and waved to wellwishers before descending to join them to cries of "Hurrah!".
"We've been waiting for this marriage for quite a while," said a 30-year-old onlooker, herself to marry next month. "It's a modern marriage, international, not dynastic. He chose someone simple, and discreet, like us."Following Friday's ceremony the couple were to wed again on Saturday in a Catholic service attended by fellow royals and stars from fashion and showbusiness.
The 53-year-old playboy prince's lengthy bachelorhood had begun to try the patience of his subjects, who live crammed in a tight hillside warren of concrete tower blocks alongside tens of thousands more foreign tax exiles.
Now he has presented them with a princess that looks the part, a statuesque blonde with poise and style, and locals hope the couple will ensure an orderly succession by producing a legitimate heir.
Monaco's privileged status as an independent principality that sets its own low tax rates and regulates its own financial services depends on it having a prince, and Albert's Grimaldi clan has ruled since the 13th century.