Their faces are familiar to many Sri Lankans – glamorously attired, they vow audiences with their lithe movements. They are the dazzling dancers of the well-known Channa and Upuli Dance School, who have taken up the challenge to be a part of the troupe.
What does life entail for these professional dancers? It is a passion that has become a profession, they point out when they talk about their fulfilling careers, the commitment that goes hand in hand and what it is to be part of the Channa-Upuli dance family.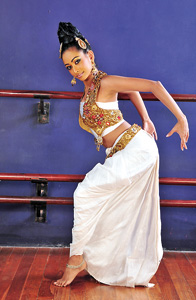 Prasadi
The tales of this talented group of young women who have come together to learn and promote the art of dancing reveal one thing -- inborn talent alone is no ingredient in making a professional dancer. It is just one of them, with commitment and dedication also playing a vital role.
Their day begins at 10 every morning when they arrive at the studio for a strenuous training session which goes on till about 3 in the afternoon. It is not only dancing but also core exercises for all parts of the body. Stressing the importance of exercises, veteran dancer Channa Wijewardena who has been in this arena for 40 years says exercise comes first. "Pure movement of the dance is closely linked to the thoughts of the student. It is like a bhavana. The abstract movement stems from thought and how you feel it."
Once the training session is over, it is time to prepare for their performances in the evening while over the weekends they also teach at the school.
The senior-most student of the dance school who is also part of the troupe, Vindya Warakagoda, was just seven years old when she first joined, almost 22 years ago. With a childhood dream to be a dancer, Vindya says her artistic family background helped make her what she is today. "My parents did not push me into anything else. They always encouraged me to do what I like, but in a professional way. I have worked with different generations and it is a pleasant experience."
It's not only that they work together to get the steps and technique right, they also get things done together, designing and making the stunning costumes. When asked whether it is not too strenuous to be dancing from morning till night, Vindya replies: "I don't see it that way, because I enjoy what I am doing."
Nadeeka Perera joined the school after her O/Ls and has stayed on for 14 years as she is inspired by her guru's style of dancing. Her curiosity to learn the secret behind this dancing style propelled her into troupe training and eventually made her put aside the idea of doing a job, taking up dancing as her profession.
Although there was not much recognition for dancing as a profession in Sri Lanka a few years back, due to the level of professionalism and standards introduced to the local dance scene by her guru, she did not feel insecure to make dancing her career, Nadeeka explains.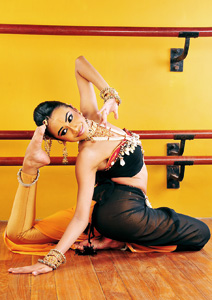 Aseka
For her, travelling as a dancer is a unique experience. "You visit places you would rarely get to see as a normal traveller. The Opera House performance in Australia in 2004 is just one example," she says.
Rasuni Manorathna (pictured on the cover) was six years old when she joined the school. "We spend more time here than we do with our families. It is as if being with your own family: The advice and training we get from Channa and wife Upuli are quite valuable," she says, adding that maintaining your body and beauty is a top priority for a dancer and that requires commitment.
When asked what makes her job interesting Rasuni says: "We meet different people. We perform something different everyday and the foreign tours are unforgettable experiences."
More than the profession, it is the self-satisfaction of being a dancer that Amali Weerathunga finds fulfilling since joining the school in 2003. "Every day it is a different experience. Recently we went to Dubai to perform at a fair where a lot of other countries like India and Pakistan also came. There I realized we are like ambassadors for our country and we had to represent not just the dance school but our motherland as well and that was a challenge," she says, adding, "Our dancing is sacred, so the audience admires it."
Joining the school after seeing Channa and his group perform on TV, Prasadhi Pathirana says she has been with them for five years. "I realized the depth in this art after I started training here and I wanted to do it as a profession." Dancing has become a part of her life so much that if she misses even a day, she feels as if she has not had her meals, Prasadi says with a smile. "I have to dance at least six to eight hours a day. Missing a show or a class means you lose out on a chance to learn something new and fall behind in your career."
For Aseka, "dancing is in my blood", naturally so because she is the daughter of Channa and Upuli and her whole family is in this field. "I have been living in this place. I have been hearing music and I see them dance all the time. I loved dancing as a child but I was lazy to follow classes at first. But when I grew up and understood there is a deep philosophy in it, I wanted to do it," she explains pointing out the sacrifices one has to make to become a full-time dancer "but you can gain as much".
A memory that she will cherish forever is a meeting with Sai Baba. Recalling this unforgettable experience, Aseka says they had performed the Buddha ballet in India for Sai Baba with her playing the character of Siddhartha, when he came up on stage and hugged her. "I felt a current going through my body and that was unforgettable," she says, adding that being a dancer provides such unique opportunities.