Police and military personnel will be deployed to assist during Dengue Week, starting tomorrow and continuing till June 26. They will accompany health officers to help reinforce the anti-dengue message to house occupants and the management of schools and government and private organisations. Meanwhile, the killer dengue mosquito is doing its lethal rounds, taking along with it toddlers and children among its more than close to 8,000 victims so far this year.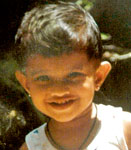 Malsha Dilshani didn't live to
celebrate her fourth b'day
Little Malsha Dilshani was among the recent victims. She was looking forward to the little party she was to have in July with her nursery pals to mark her fourth birthday. Tragically, a killer dengue mosquito made sure she would not make it to the party.
Malsha died last week of complications from dengue fever. Her parents Sugath and Shashila are devastated by the loss of their only child, and have given up their house in Pamankada, Colombo 6, and returned to their hometown.
In Nedimala, Dehiwala, five-year-old Erandika Dilrukshi and her next-door neighbour were admitted to the Kalubowila Hospital with dengue fever. Erandika died while undergoing treatment at the hospital.
The same fate has befallen other toddlers and children: one-year-old Dimantha of Narahenpita; three-year-old Husna, of Maligawatte; seven-year-old Senash, of Grandpass; 10-year-old Fakeem, of Maradana; 11-year-old Nimesha, of Mt. Lavinia; 11-year-old Azana, of Slave Island, and 14-year-old Vihanga, of Moratuwa -- are a few of them.
"
This time the health authorities are cracking down hard. For almost 10 years we have been conducting awareness-raising programmes, and now the time has come to take stern action.
"

- Dr. Sudath Peiris, Senior epidemiologist, Ministry of Health
Since the beginning of the year, a total of 7,836 cases of dengue fever have been reported. The number of cases peaked in May at 1,955, but June looks set to be a bad month too, with so far 1,042 cases reported up to yesterday.
The mosquito menace is expected to intensify with the onset of the southwest monsoon, which dumps heavy rain on the Western, Southern, and Sabaragamuwa provinces, the central hills, and the Galle and Matara districts.
Colombo district tops the list with 2,646 cases so far this year, followed by Gampaha with 900 and Batticaloa with 549 cases. High population density in Colombo, especially in the Dehiwela-Mt. Lavinia area, is one reason for the high incidence of cases. Kalutara, Kegalle, and Kurunegala have also recorded a relatively high number of cases.
Most child victims die from complications arising from dengue fever, according to Colombo South Teaching Hospital (Kalubowila) director Dr. Anil Jaasinghe. "Of the nine dengue deaths at the hospital, five were children. Most of them are admitted to the hospital when they are suffering from dengue haemorrhagic fever," he said.
Dr. Jaasinghe said full blood counts and round-the-clock monitoring of dengue patients is conducted in the out-patients department (OPD), the intensive care unit (ICU), and the wards.
Schools have come under close scrutiny since the dengue menace reared its head. Dr. Sudath Peiris, senior epidemiologist at the Ministry of Health, says schools and state institutions are notorious for their mosquito breeding spots. "As much as 70 per cent of schools in the Western province are guilty of breeding mosquitoes. While schoolchildren are made to clean up at ground level, labourers should be hired to clean the gutters and the roofs. Education authorities should be looking into this high priority matter."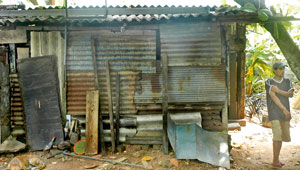 The house in Pamankade, Colombo 6, that Malsha Dilshani shared with her grandparents, who have left the premises following Malsha's death.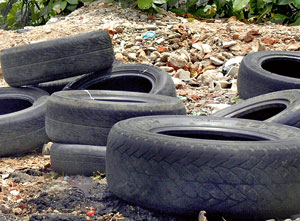 Tyres exposed to the elements are breeding havens. Pix by Saman Kariyawasam
Dengue is a mosquito-borne disease, and cannot be prevented through vaccines, nor is there a cure for dengue. Patients need bed rest, plenty of fluids, and Paracetamol. Asprin is not recommended as it can aid bleeding. If fever persists for more than three days, a doctor should be consulted,
The symptoms of dengue fever are high temperature, appetite loss, vomiting, severe headache, nausea, pain behind the eyeballs, muscle and bone aches, and sometimes a rash. Dengue Haemorrhagic Fever (DHF) is a complication of dengue. The symptoms include internal bleeding, bleeding from nose and gums, vomit with blood traces, and dark stools. Patients suffering from DHF may die from internal bleeding.
Previously, it was assumed that it was the adult mosquito that carried the dengue virus, but recent laboratory results show that mosquito larvae and eggs can also carry the virus. The killer mosquito's favoured breeding spots are concrete roofing, gutters, water tanks, swimming pools, ponds, drains, ornamental vases and figurines, plants that hold water, discarded tyres, empty containers and shells.
The Ministry of Health is doing the rounds, spraying BTI at potential breeding spots, such as state-owned garages, stores, shops that store motor body parts, and container yards.
"This time the health authorities are cracking down hard. For almost 10 years we have been conducting awareness-raising programmes, and now the time has come to take stern action. The local authorities are responsible for the cleaning and maintenance of roads, roadsides, drains, and public parks," said Dr. Peiris.
But the local authorities had failed badly in Malsha's case, according to Malsha's grandfather, K. Milton, 60 years. "My granddaughter attended a nursery that was set up in a temple nearby. A number of children had fallen sick. The local health authorities were informed, but took no action. Only after Malsha died did health officers come and fumigate the area, near the canal. A lot of very poor families live here. In the past, health officers would come and spray insect repellent only if they were paid."
Mr. K. Milton said fumigation should be carried out at government and private institutions as well as places of religious worship. The country is suffering a serious shortage of Public Health Inspectors (PHIs). Ideally, there should be one Public Health Inspector per 10,000 people; but at present, there is one PHI per 30,000 people.
Police officers, police environment units, and community police officers will assist health officers during their inspection rounds. All residences, the premises of public and private institutions, places of worship and schools will be inspected, SP Quintus Raymond, director of the Police Environment Protection Unit, told the Sunday Times.
"There have been cases of health officers being threatened and denied entry into offices and gardens to carry out inspections. The police and the military will make sure that inspections are carried out properly and that health inspectors cover all areas."
Meanwhile, the police are cleaning up their own backyards and premises – including police station buildings and barracks – to eliminate mosquito breeding spots.
Secretary to the Ministry of Health, Dr. Ravindra Ruberu, told the Sunday Times that the Presidential Dengue Task Force, which includes the Health, Education, Environment and Defence Ministries, will review the situation on June 21, and make recommendations for new law enforcement.