Wijeya Newspapers's "Poson Aloka Pooja" (offering of light) will bring a glow to the historic Thanthirimale for the eighth consecutive year beginning from June 15 (Poson Poya day).
The three-day pooja is a result of Chief Priest Ven. Thanthirimale Chandaratana's guidance and efforts made by Buddhist monks and employees of Wijeya Newspapers Ltd. to decorate the entire area. Thanthirimale is surrounded by the Wilpattu sanctuary on one side and the Anuradhapura-Mahawilachchiya highway on the other.
To its east is Mihintale which is equally historic. It is believed that the Sacred Bo sapling in Anuradhapura was first rested at Thanthirimale. All necessary arrangements have been made for pilgrims arriving to Thanthirimale to follow religious observances in peace and tranquility.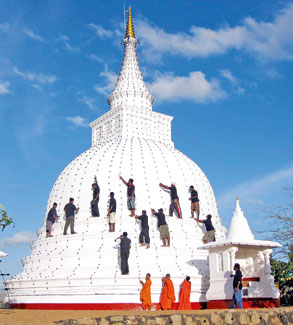 Wijeya Group electricians putting up lights on Friday