Lawmakers of Tamil Nadu on Wednesday called for economic sanctions against the Sri Lankan Government indicted by a UN committee of war crimes during the recent conflict with the separatist Tamil Tigers.
A resolution moved by the newly elected government of the AIADMK, also called for speedy resettlement of civilians uprooted from their homes during the last stages of the war with the Tamil guerrillas in the Northern Province. Moving the resolution which was later adopted unanimously by the Tamil Nadu Assembly, Chief Minister J Jayalalithaa said India should join hands with other countries and impose economic sanctions against the Mahinda Rajapaksa administration, accused of war crimes such as bombardment of civilian settlements and hospitals, and denying of humanitarian assistance to civilians trapped in the battle zone. It also accused the Sri Lankan government of violation of human rights in the process of weeding out suspected Tamil Tigers from among the swarm of refugees housed behind barbed wire make-shift camps during the last stages of the war.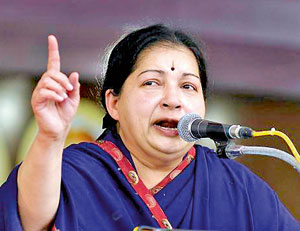 Jayalalithaa: Projecting herself as champion of Lanka Tamils
Ms. Jayalalithaa said sanction was the only way to make Colombo listen to world opinion on ensuring justice for Sri Lanka's minority Tamils who should enjoy equal rights with the majority Sinhalese. "If India and other countries impose sanctions, Sri Lanka has to listen to what we say," she said, replying to the debate on the resolution. The resolution wanted India to press the UN to declare as "war criminals" those responsible for the large-scale deaths of civilians.
Jayalalithaa said the committee set up by UN Secretary-General Ban-Ki-moon had found prima facie evidence of war crimes and called for a fuller investigation by the Rajpaksa government, but it had refused to do so. The only way to make it fall in line was by imposing economic sanctions by India and other concerned countries, she reckoned.
"This is only a temporary measure and India should ask the UN to declare those indicted by the committee as war criminals", she said. She accused the Indian government, of which her rival the DMK is a part, of having failed to rein in Colombo during the last battle in which an estimated 40,000 civilians were believed to have died and more than 300,000 uprooted from their homes, owing to indiscriminate aerial bombardment and heavy shelling not only in civilian settlements but also in specified safe zones, she charged.
Though the resolution was adopted, the DMK walked out of the House before the resolution was put to vote on the specious ground that it was not given a chance to reply to allegations made against the previous Karunanidhi government by the AIADMK and allies like film star Vijayakanth's Desiya Mutpokku Dravida Kazhagam (DMDMK).
With the AIADMK and its allies having won 204 out of the 234 seats, there was hardly any worthy opposition to talk of. Besides the allies, Ms Jayalalithaa herself devoted a major part of her speech to a strong indictment of Karunanidhi during the crucial phase of the war. Her contention was simple: If only Karunanidhi threatened to pull out his MPs from the UPA government, in which case it would have collapsed, it would have acted firmly with Colombo to prevent large-scale bloodshed. Instead, Karunanidhi exerted pressure on Manmohan Singh to get plum portfolios for his son and grand-nephew and other cronies.
Yes, when pressure mounted on the opposition, the self-appointed champion of world Tamils Karunanidhi "enacted a series of stunts". First, he got all his MPs to resign, but the letters were addressed to him and he kept them till the deadline which he had fixed as mid-October to pass, when senior Minister Pranab Mukherjee flew down close to the deadline and firmly and politely made him fall in line.
Yet another farce was the breakfast-to-lunch fast enacted by Karunanidhi on the shores of the Marina beach forcing the then External Affairs Ministry Secretary Shiv Shankar Menon call his friend 'Gotti' Gotabaya and tell him, "do something to please the old man". The result was the masterly statement made by Colombo that it was not using heavy-calibre weapons. That was enough for Karunanidhi to call off the fast and announce that he had brought about a ceasefire.
The fact was, the armed forces had no need for the use of heavy calibre weapons any more as the enemy was within touching distance!
One major reason for Sri Lanka's success in the fight against terrorism was the hands-off policy adopted by its powerful and influential neighbour India. That does not mean that Tamil Nadu will no longer be factored in by India in formulating its policy towards Sri Lanka. The comment by the usually sober senior Minister G.L. Peiris that those who criticise Sri Lanka are hostile to it is based on misconception.
Equally uncalled for is the solicitous remark by hard-line Jathika Hela Urumaya that the Tamil Nadu resolution is "disgraceful", that it amounts to supporting a terrorist group which "killed more than a thousand Indian soldiers and assassinated former Indian Prime Minister Rajiv Gandhi
Sri Lanka will and can ignore Tamil Nadu at its own peril, as Jayalalithaa has never been a supporter of the LTTE and who at the same time is willing to take up cudgels for the Tamils who are now sought to be handed down victor's justice.
Anticipating she was bound to be misunderstood, Jayalalithaa made it clear that while all the parties in Tamil Nadu supported the Tamils' struggle for Eelam or an autonomous homeland, the support gradually evaporated after the fratricidal war between the militant groups, finally culminating in the assassination of Rajiv Gandhi on Tamil Nadu soil, she said .
In fact, she came to power for the first time in the tidal sympathy wave generated by the assassination in May 1991. Aware of the people's feelings, she was the first to get the LTTE proscribed by the Government of India. As she rightly put it, " the assassination of Rajiv Gandhi by the LTTE not only posed a threat to India's sovereignty, it also caused among the people of Tamil Nadu a revulsion, turning support for the group into hatred."
She also noted that the final battle started at a time when there were regime changes in Colombo, Delhi and Chennai. The UPA was voted to power in 2004, Mahinda Rajapaksa became President in 2005 and Karunanidhi became Chief Minister of Tamil Nadu in 2006. She recalled when the battle raced to its finale in 2008-09, "I repeatedly urged the DMK to threaten to pull out of the UPA government to force it to take a firm line. Instead, Karunanidhi was keen on protecting his own turf and indulged in theatrics like fasts, human chain protests and "farcical fasts". She said Karunanidhi made a mockery of fasts by announcing after a two-hour hunger strike that the war had come to an end. Believing him, thousands of Tamil civilians came out of bunkers only to fall victim to bombs and shells, she charged.
She also lambasted a team of MPs from the DMK and its allies, including Karunanidhi's daughter Kanimozhi when reports appeared that refugees fenced in camps were living under inhuman conditions with habitations lacking even basic sanitation facilities. "Yet, the MP's team dined with Rajapaksa, accepted gifts and came back and told the people here that everything was fine".
Responding to misgivings expressed by Communist member Soundarajan that economic sanctions might affect Tamils who were yet to be fully rehabilitated, he apparently meant, India's commitment to pledge Rs 5,000 crore aid package to build houses for the uprooted Tamils.
Ms Jayalalithaa however said economic sanction was the only way to turn around Colombo which had become intransigent after the end of the ethnic conflict. It was only a temporary measure to ensure that Colombo met its commitment to resettle Tamils in their original habitats and work out a political settlement that it would meet their legitimate aspiration to live as equal citizens with the Sinhalese, she said. The clout Ms Jayalalithaa enjoys with New Delhi has been the stopover of National Security Adviser Shiv Shankar Menon at Chennai and meeting Jayalalithaa before his talks with Sri Lankan officials in Colombo.
The question is that economic sanction will not work as India is not a major donor country unless it works in concert with other aid Lanka consortium members like Japan and EU. Colombo playing the China card to neutralize India has been seen at the recent meeting of the UN Human Rights Commission in Geneva where New Delhi joined hands with Beijing and Moscow to bail out Colombo. Colombo may be in denial mode, basking in the glory of its victory against the Tigers, but the euphoria would die down soon. It was Chandrika Kumuratunga, who told the nation in 1999, after narrowly surviving an assassination:" Even if the Tigers are eliminated, the Tamil problem will remain".
S. Murari is a former associate editor of Deccan Herald, Bangalore and is based in Chennai. He is a keen observer of Sri Lankan affairs.