A review mission from the International Monetary Fund (IMF) has urged Sri Lanka to focus on transparency and improve governance to bolster market confidence and attract higher investment.
IMF Sri Lanka Review Mission Chief Brian Aitkin told reporters the Government must win private sector confidence by being more transparent in awarding tenders for large-scale infrastructure or development projects.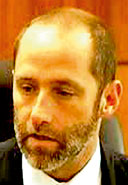 Brian Aitkin
He made these comments during his team's discussions with private sector representatives who expressed concern over the failure of the government to award even sub contracts of large-scale projects to private firms. Dr. Aitkin noted that the private sector officials had complained they were not even allowed to submit their bids for such projects.
He said -- in what is now seen as a matter of course -- the IMF would approve another instalment of $450 million, the seventh tranche under the $2.5 billion Standby Arrangement (SBA loan). This would come after the mission submitted its recommendations to the IMF board in Washington in October and another review by the IMF in September.
He said, "There was a perception that the government is sending some potentially conflicting signals about the role of the private sector in economic development."
This could deter investment and should be addressed, Dr Aitkin noted. On the sidelines of the briefing, he told the Sunday Times that the country's savings rate would improve with the increase in domestic and foreign investments.
Asked about the controversial private sector pension scheme, he said the IMF had nothing to do with this scheme. Opposition critics have claimed that the pension scheme was part of the government's deal with the IMF to get the next instalment of the loan.
Dr. Aitkin also advocated the adjustment of the exchange rate according to market conditions in a non-disruptive way. Sri Lanka was experiencing a steady export growth, and continued large remittance inflows had supported reserves, he noted.
"Private-sector credit growth has been rapid, but from a low base, and there are yet no signs of demand-driven inflationary pressures. The Central Bank should, however, be on the lookout for signs of overheating, and be prepared to adjust monetary policy accordingly. Banks and finance companies should also guard against a relaxation of lending standards and the accompanying risk of non-performing loans," he said.
He pointed out that recent investments in banks by the Central Bank using funds of the Employees Provident Fund to buy stocks in banks had raised fears that the state was controlling these institutions. Dr. Aitkin welcomed the government's initiative of shifting investment promotion away from granting tax concessions. He noted that more steps needed to be taken to institutionalise this policy by revising investment guidelines and regulations to provide more clarity to prospective investors while safeguarding tax revenue.