SANAA, May 28 (Reuters) - Yemeni tribesmen said they wrested a military compound from elite troops loyal to President Ali Abdullah Saleh outside the capital Sanaa on Friday as fighting spread, threatening to tip the country into civil war.
Yemeni fighter jets broke the sound barrier as they swooped over Sanaa, where battles between Saleh loyalists and the Hashed tribal alliance led by Sadeq al-Ahmar erupted this week after failure of a deal to ease the president out.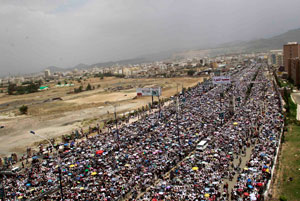 Anti-government protesters attend weekly Friday prayers. Reuters
Clashes spread northeast of Sanaa on Friday, where tribes said in addition to seizing a military post in the Nahm region, they were also fighting government troops at two other positions south of the capital.
In Sanaa, tens of thousands of people gathered after Friday prayers for what they branded a "Friday of Peaceful Revolution" against Saleh, releasing white doves and carrying the coffins of about 30 people killed in clashes this week.
Tens of thousands turned out for the rally, inspired by the Egyptian and Tunisian revolutions, though their numbers had dwindled compared to previous weeks after thousands fled Sanaa and the government closed roads around the city to keep out tribes trying to reinforce the Ahmars.
Machinegun fire and sporadic blasts rattled the city before fighting eased after mediation efforts. Ahmar's fighters evacuated government ministry buildings they had grabbed this week in return for a ceasefire and troops quitting their area.
"We are now in mediation and there has been a ceasefire between the two sides," Ahmar, close to an Islamist opposition party, told protesters in "Change Square". "But if Ali Abdullah Saleh returns (to fighting) then we are ready. We are steadfast and victorious." "We wanted it (revolution) to be peaceful but Saleh, his sons and his clique wanted war. We will not leave them the opportunity to turn it into a civil war," Ahmar told Reuters.
But in a sign of hostility between the sides, a government source ridiculed Ahmar for his grandiose statements, saying the state had taught him a "small lesson" and urging him and "his gangs" to turn themselves in to face justice.