SAITM, the South Asian Institute of Technology and Medicine, (www.saitm.edu.lk) is the first Green campus located in the suburbs of Colombo with a vision to make Sri Lankan and regional youth enriched with professionalism and character. The multi faculty campus integrates students of all disciplines with the environment and makes them eco friendly.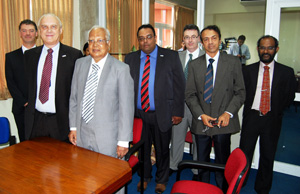 SAITM Malabe, the newest addition to private sector higher education sector in Sri Lanka is dedicated to serve deserving learners in Sri Lanka and beyond. The four Faculties: Medicine, Management and Finance, Engineering, and ICT & Interactive Media of the Institute affiliated to highly recognized global universities create and will continue to create innovative opportunities for learners with a view to provide new vistas in their professional life.
SAITM's faculty staff is comprised of professors / senior lecturers from local universities recruited in line with the UGC guidelines and highly qualified visiting and overseas faculty members.
SAITM has provided its students spacious and advanced classrooms and state of the art high tech facilities to enable them to continue their studies in a modern and friendly campus environment. The building complex covers over 96,000 square feet. The state of the art facilities available in this institute include spacious air conditioned classrooms, modern laboratories, an auditorium with 450 seats, students' lounge, and modern cafeteria, health centre and sports facilities making the life of the students easy and fun to learn.
The philosophy of SAITM can be described in the following words and terms: Quality, human values, greenery, charming, discipline, and environment. SAITM believes in "partners in progress" and has collaborated with a number of internationally recognized universities.
Buckinghamshire New University
Buckinghamshire New University (formerly Buckinghamshire Chilterns University College) is a university in High Wycombe, Buckinghamshire, England. The university is a member of the Million+ university group and GuildHE.
Buckinghamshire New University has enjoyed a long and successful history since it was founded in 1893. The University now offers an extensive portfolio of courses spanning the creative and cultural industries, the management and information management sectors, and the public sector. It also offers services to industry including contract research, consultancy and the opportunity to employ graduates.
The University has recently completed a major campus re-development programme, which saw the opening in September 2009 of: a new state-of-the-art building in High Wycombe known as the Gateway and comprising a learning resource and technology centre, events hall, gym, sports science laboratory, dance, drama, music and video production studios, library and meeting rooms; new student accommodation in High Wycombe; and a new base for nursing students and applied healthcare research in Uxbridge, West London.
Several courses run at BNU are rarities in British universities. Courses like Airline and Airport Management, Music Management and Video Production, as well as the extensive Furniture Design and Restoration, Textiles and Advertising departments are the University's main attractions.
Its range of courses includes Business, Law, Furniture, Music Management, Police Studies, Air Transport with Commercial Pilot Training, Creative Arts, Computing, Social Work, Psychology and Sports Management and the University maintains excellent industry links.
For further details about Buckinghamshire New University go to www.bucks.ac.uk
Collaboration between SAITM and BNU
The Faculties of Management and Media looked at Buckinghamshire New University (BNU), which is an upcoming and fast developing British University as a partner with whom we can serve the student community. Our aim is to march together and serve the South Asian students who seek a degree in Management, Marketing, International Business and Financial Management.
Degrees in Tourism, Hotel and Event Management, and Hospitality are planned, and likely to be offered by September, 2011.
Creative individuals aspiring to obtain a Degree in Multimedia now have an opportunity to complete their degree in Sri Lanka at SAITM. This 3 year BSc in Computing and Interactive Media Degree usually costs about Rs.1,300,000/=. Dr.Neville Fernando Foundation offers students a scholarship so that you only pay about Rs.750,000/=.
The fast changing world of interactive multimedia and the Web is one of the most exciting areas in the digital media domain. The opportunities are almost limitless for those who wish to combine design and technical skills.
Being listed under Commonwealth universities, BNU is recognized by the University Grants Commission of Sri Lanka. Therefore, students who complete the degree offered by BNU will have recognition in both local and overseas job markets.