Mercury Institute of Management recently received the highest world ranking - Platinum Status - by ACCA. This prestigious quality certification adds to Mercury's impressive credentials, reinforcing it as the No: 1 institute for ACCA education in Sri Lanka and in the region.
As the pioneer of ACCA education 10 years ago in Sri Lanka, Mercury was also the first ACCA Gold Status Tuition Provider in the country and remained as the only Gold Status ACCA partner in Sri Lanka for seven years before ascending to the highest Platinum Status level which it now holds.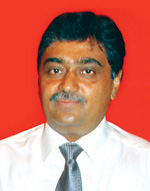 Mr. Jeevith Shakespeare Managing Director/CEO
Mercury Institute of Management
Worldwide, ACCA confers Platinum Status to only a handful of its Tuition Providers 'in recognition of exceptional quality of tuition provided and support for ACCA students'. Platinum Status challenges the total quality of the institute with a minimum requirement being an institute's ability to deliver Pass Rates higher than World Pass Rates in consecutive sessions, on a consistent level. Mercury Institute with its distinguished track record of proven success made it to the top bringing honour and recognition to not only its world class lecturers and students but to Sri Lanka as well. Soft spoken yet highly focussed Managing Director/CEO of Mercury Institute Jeevith Shakespeare who has been the powerful agent behind Mercury's success story was delighted on receiving ACCA's highest global recognition.
"It was good being a Gold Status partner when I took over the reigns of Mercury 3 years ago. But I recognized the scope and potential that Mercury had to push limits and reach for the highest standards in excellence. We had the finest team of lecturers, the most committed, self-motivated groups of students, genuinely dedicated staff and challenging processes in place to push for Platinum. Platinum Status is a victory for all these stakeholders who shared our vision to be amongst the best in the world". Jeevith also paid a glowing tribute to ACCA Sri Lanka for their encouragement, monitoring and support.
Mercury Institute leads the way in quality education for many reasons. The institute lays emphasis on a Personalized, one-to-one learning programme for its students which aids in maximizing on students potential. Student success is further guaranteed by Mercury's size-controlled classes which once again spotlight the student in terms of them receiving focused lecturer attention. Size-controlled classes remain a Mercury feature consistent in all its other professional courses as well.
Mercury's high standard of excellence is driven by its proven panel of professional lecturers who are by far the best in the business. Led by T.P.L. Raj who is rightfully acclaimed as the doyen of ACCA education in Sri Lanka and a former President of the ACCA council in Sri Lanka for several years, Wazeer Ahmed, Shaan Jayasekara, Shehan Fernando, George Anthony Fernando, Janith Kalana Gunasiri, Balachadran Prasenna, Dilshard Jiffry, M. F. Nazar, Anuk Jayasuriya, Thillina Ukwatta and Rikzy Easa Mercury possesses a winning combination geared to back any student to the pinnacle of success.
ACCA student success is synonymous with Mercury - the institute having produced more ACCA Sri Lankan Prize Winners and World Prize Winners than all other local institutes put together.
Jeevith Shakespeare makes a note that " Another significant factor of our students is their attitude to education and success. Either by choice or by design, Mercury students are of a different calibre. I can proudly state that the finest diamonds enter our portals and after passing, embark on their careers as truly sparkling gems. Our ACCA programmes are designed to offer professional qualifications and a UK degree from Oxford Brookes University in just two and a half years. If students pass successfully at each level - success is guaranteed in this incredibly short time span. Needless to say, many of our students have achieved this".
With Mercury Institute now making Sri Lanka the world's newest Platinum Status destination, students In Sri Lanka and in the region can confidently gain access to the highest level of ACCA education, in the most cost-effective way.