The controversy ridden Sri Lanka Badminton Association's (SLBA) headquarters plunged into darkness after its officials skipped paying the electricity bill. Mayhem followed on the same day when the badminton national coach Kamal Gamlath tendered his resignation to the Minister of Sports sighting the unavailability of gear to carry out training sessions in preparation for the forthcoming Sudirman Cup World Championships to be held in China in just two weeks.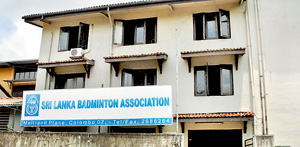 The beleaguered headquarters of the national shuttlers (Pic by Sanka Vidanagama)
The details were revealed by a reliable source connected to the sport who wished to remain anonymous. "The SLBA has a good source of income. There are eight rooms which have been rented from prices ranging from Rs. 2,000 to 3,000 per day for athletes and in addition they hire out the courts for outsiders. There is no reason to ignore bills that should be paid on time," the source added.
According to insiders the national pool players are been only given a specific time during a day for training despite Sri Lanka engaging in many international tournaments abroad. The squad has to experience difficulties at training sans standard shuttlecocks which are used at international events. According to the source this has lead Gamlath to write a strong letter to the Ministry of Sports.
When the Sunday Times inquired about the development from Gamlath he said that he had intended to resign earlier as he faced inconvenience while training the national squad for the World Championship which begins on May 20. The Ministry of Sports after learning of the power cut that SLBA had to face had intervened and paid the dues on the very next day.
In addition the SLBA is currently running without a proper selection committee since the end of April 2011. With the World Championship just ten days away Gamlath said he is training a squad that includes six women and six men.