The Academy of Design (AOD) - South Asia's celebrated design campus is actively involved in the advancement of Sri Lanka's creative industry. Apart from these special ventures, AOD has also contributed to the local design industry by producing a generation of proficient designers and design entrepreneurs of international calibre. Maneesha Perera is one such alumna of the campus who recently joined the list of successful fashion entrepreneurs in Sri Lanka.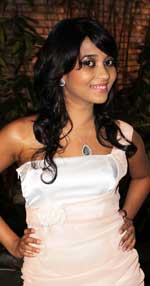 With her newly launched brand - Just U - residing in a chic boutique in Colombo, Maneesha is one of the youngest fashion entrepreneurs in Sri Lanka. "Since my childhood the creative arts and design has inspired me. After my school education, I joined The Academy of Design which is one of the best design institutions in Sri Lanka for international design education." says Maneesha who thanks her former campus -the AOD - for helping her achieve professional skills needed by a design entrepreneur.
Although she studied Interior Design at the AOD, Maneesha says she has a great passion for Fashion design too. "Although I chose to study Interior Design, I did not want to let go my passion for Fashion Designing, and kept myself updated with the latest trends. Even as an Interior student, the exposure I got through AOD's education, in handling clients, being professional and managing time has helped a great deal. Initially, Just-U started as an online store, and the great response that I got within the first few months, encouraged me to launch the Just-U boutique."
AOD's Principal Karen MacLeod stated that AOD encourages its students to become creative entrepreneurs as design needed proper commercial and business direction to become a part of an economy. "Maneesha is the living proof of how a designer's creativity could be moulded into a gift that contributes to the world when guided by proper education and business brains" she added while extending her congratulations to her student.
Visit the Just-U store at #32, Ward Place, Colombo-7 (Coco Veranda Building).
For More Information on AOD - www.aod.lk