The Certified Management Accountants of Sri Lanka launched its New Syllabus, effective March 2012 at the Taj Samudra recently. Prof. Lakshman R. Watawala, President CMA in his address said he was pleased to announce the new CMA Examination Syllabus which will come into effect with the March 2012 examination. The consultants entrusted to revise the syllabus have ensured that the new syllabus has taken into account global developments and is in accordance with international standards. We have also met the needs of the business sector to produce quality Professional Accountants in Business.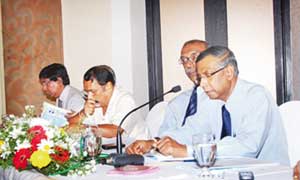 (L to R Mr. H.B.H. Munesinghe - Executive Director Examinations of CMA, Mr. J.M.U.B. Jayasekera - Secretary to AAT Sri Lanka, Mr. M.B. Ismail - Treasurer Governing Council of CMA and Prof. Lakshman R. Watawala)
The objective of the CMA Study Programme is to produce Management Accountants endowed with capabilities, competencies and a globalized-outlook required to meet the challenges in organizations both locally and globally. In an attempt to meet this objective in a dynamic business environment the CMA Study Programme is revised periodically in keeping with the global professional requirements in accounting. The revised CMA Study Programme-2012 consists of twenty two course units categorized as seventeen core courses, four skill courses and, at the apex, an integrative case study.
The core course units are clustered into three main streams: Management Accounting, Financial Accounting and Business Management giving prospective management accountants command in different aspects of accounting and business. The skill course units will instil and enhance requisite skills while facilitating mastery of core course units. The global-local outlook maintained throughout the study programme will develop a glocalized mind-set in them enabling them to work both locally and globally.
The revised CMA Study Programme-2012 carries significant improvements with respect to the focus of the study programme, its structure, organization of core and skill course units, vertical and horizontal linkages and contents of course units. It will undoubtedly facilitate the grooming of competent Management Accountants who are capable of crafting strategies and managing risk in pursuit of developing sustainable world-class organizations.
The Institute of Certified Management Accountants (CMA) of Sri Lanka was incorporated in April 2009 as the National Professional Management Accounting Institution in Sri Lanka by Parliament Act No.23 of 2009. CMA was set up in the year 2000 with Technical Assistance of CMA Canada. Since its inception, CMA Sri Lanka has grown to an Institute comprising over 12000 students and 2000 Members. CMA Sri Lanka promotes and develops the study of Management Accounting, Financial Accounting, strategic management and conducts the Certified Management Accounting Programme leading to a Professional Management Accounting qualification suited for the business sector.
CMA is incorporated under the Ministry of Cooperatives and Internal Trade, similar to the Institute of Chartered Accountants of Sri Lanka. CMA is a member of the South Asian Federation of Accountants (SAFA) which includes the Institute of Chartered Accountants of Sri Lanka and the Chartered and Management Accounting bodies of India, Pakistan, Bangladesh and Nepal.
CMA was admitted as a member of the South Asian Federation of Accountants (SAFA) in December 2009 and joins the fraternity of Professional Accounting bodies in India, Pakistan, Bangladesh, Sri Lanka and Nepal. CMA also received the Associate Membership of the International Federation of Accountants (IFAC) in November 2010. IFAC consists of 125 countries and the membership comprised of 164 member bodies with a total membership of more than 2.5 million accountants in public practice, education, government service, industry and commerce.
CMA offers an affordable (1/10 the cost of foreign courses), flexible and easily achievable route to a professional qualification for A/L qualified students, undergraduates, graduates as well as those in employment. This Management Accounting programme is available via accredited tuition colleges, self study, and eLearning conducted by CMA.
Those who qualify at the CMA and obtain their membership will be able to use ACMA for Associate Certified Management Accountant and FCMA for Fellow Certified Management Accountant.