'Future Minds' which is the most anticipated education and career guidance exhibition of the year, is a concept that was brought to life by the Nalanda Junior Old Boys' Association. The event's maiden launch successfully took place in the year 2006. The sole purpose of Future Minds is to provide a common platform in which educational institutes, students as well as parents alike can meet and interact. This year the exhibition is scheduled to function over a three-day period from June 17 to 19 at the BMICH. This will then be followed by yet another two-day agenda taking place for the first time at the Kandy City Centre, on June 25 and 26.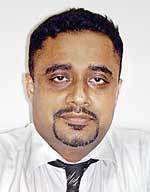 Ravi Hettiarachchi, President of the Nalanda Junior Old Boys' Association
"Future Minds can best be termed as the ideal career gateway for Sri Lankan students to be introduced to the many avenues of education available and thereby provide the ideal platform to select the most appropriate career paths that suits their individual needs. By providing the right guidance for school leavers Future Minds successfully enables students to find accurate and fast solutions with regard to their higher education", says Ravi Hettiarachchi, President of the Nalanda Junior Old Boys' Association.
At present the traditional school system provides students with very limited avenues of higher education. It is due to this reason that many students have been misled and follow career pathways unsuitable for them. The Future Minds exhibition however has shed new light on this issue by enabling students to select the most appropriate path of education while being backed with the much needed guidance and support.
"International education too is fast becoming a popular choice among many today, and therefore it is imperative that both students and parents alike are able to fully explore all options and choices with regard to foreign education. The exhibition has placed special emphasis on this by providing maximum coverage on foreign education providers. In addition to this, this year the exhibition will also place a greater focus on the vocational education based institutions offering a range of career pathways such as hairdressing, motor engineering, the hotel trade etc", stated Mr. Hettiarachchi.
The exhibition also provides students the many options they can explore on financing and planning out of their future education. This is the best opportunity for parents to get know the proper facts with regard to the best method of investing in their children's education, the benefits as well as the limitations they will face.
A percentage of the proceeds of the exhibition will be invested towards developing the schools' English education system in the country. Also with the intention of gaining the much required attention of the schools in the country Future Minds will be hosting a 'School Day' which will take place on June 19. The 'School Day' will be a special education programme comprising various essay and oratory competitions as well as awarding of scholarships.
In conclusion Mr. Hettiarachchi said, "It is our intention to attract students and parents alike for the exhibition as parents are the decision makers when it comes to the financing of a child's education, therefore they too play a pivotal role in this process. We feel that through the organizing of Future Minds we are serving a public duty by enlightening the younger generation with regard to their career pathways and thereby contributing towards the development process of the country by nurturing and guiding the next generation of professionals that will dedicate themselves towards the betterment of the country."
- Gayani Perera