Prince William will have a long and nervous wait for his bride at the altar – three quarters of an hour to be precise. He will arrive at Westminster Abbey on April 29 – along with his best man, Prince Harry, for moral support – at 10.15 a.m, while bride Kate will not turn up until 11 a.m.
Royal sources admitted it was likely to prove 'somewhat stomach churning', but added that the delay was at the prince's request. 'It was his choice to do that – he wanted to arrive early to greet his friends. He's excited by it.'
As St James's Palace revealed details of timings on the big day, Kate made a secret early-morning visit to the Abbey for a 'run-through' with her bridesmaids and pageboys. Accompanied by Prince Harry but not her husband-to-be, Kate was put through her paces for the big day by key aides. William was unable to attend the run-through owing to work commitments. A palace source said: 'It was unfortunate that he couldn't be there but it was a run-through for the bridesmaids and pageboys anyway, so it wasn't too much of a problem.
Prince Harry also walked through his part of the big day. There will be a number of rehearsals coming up involving different members of the wedding party.' An onlooker said: 'They shut down the Abbey to the public for what was described as a private visit and sneaked them in and out of the back.' Kate will spend her last night as a single woman in London, at the Goring Hotel in Belgravia, surrounded by her family and friends.
A favourite with the wealthy and famous for decades, it has been booked up by the Middletons' wedding party for months. The future princess made the personal choice to spend the eve of her marriage ceremony at a plush but private venue rather than a royal palace – unlike other royal brides. A source said: 'She is very family orientated and just wants to be with them, like any normal bride. She was offered her choice of palaces but declined. It is very sweet.'
Kate will stay in the £5,000-a-night Royal Suite which has a king-sized bed with in-built television, an original 19th Century lavatory by Thomas Crapper, and two ensuites. It also boasts a drawing room and a study/dining room with French windows which open out on to a Juliet balcony.
Bizarrely, it also has a painting of the television character Edmund Blackadder kissing the hand of Queen Elizabeth I. Kate's mother Carole, 54, and sister Pippa, the chief bridesmaid, will sleep in the next-door rooms for moral support. The 100-year-old hotel is still privately owned by the Goring family, who have lavished a staggering £150,000 on a makeover for Kate's room.
Designers have packed it – almost full to bursting – with antiques, hand-made furniture and ornaments. Walls have been covered in Gainsborough Silk costing £500 per square metre. Rows of old leather books and a collection of china ornaments complete the traditional, if slightly cluttered, feel. The suite also offers a host of mod cons, such as the television screen that rises out of the foot of Kate's bed at the touch of a button.
One of her ensuites has a vast walk-in shower with an oil painting behind a glass screen and the other has a television. The hotel itself is fitted with carpets made by the French firm which supplied the Palace of Versailles and ceilings gilded with an acre of gold leaf.
Jeremy Goring, who is the fourth Goring to run the hotel since his great-grandfather opened it, said: 'We are honoured and delighted to be playing a small part in such a great day. We wish Miss Middleton and Prince William every happiness, and we are all looking forward to a momentous celebration.'
Royal heir-do
Kate Middleton will wear her hair down on her wedding day
The shininess of Kate Middleton's hair as she revealed her engagement to Prince William immediately sent people rushing to their closest Boots to stock up on high-gloss shampoos. Sales of shiny hair products rocketed by 27 per cent after the announcement as girls nationwide rushed to copy her shimmering, sleek style, according to the Sun newspaper.
They are likely to be boosted even further after her wedding on April 29 as MailOnline can exclusively reveal that Kate will be wearing her hair down on her big day. Following her half-up-half-down hairstyle on last Monday's official visit to Lancashire, speculation was rife that that was how she was going to wear her hair on her big day.
But Kate's hairdresser Richard Ward has confirmed otherwise, telling fellow celebrity stylist, Sinead Kelly, that Kate's hair on her wedding day will '100 per cent be down and flowy.' Ward went on to say 'Every bride's hair on their wedding day should reflect their look throughout the year. Kate's such a natural girl, so no stuffy up-dos for her.'
The princess-in-waiting's famed chestnut locks will be styled by Mr Pryce, who works at the Richard Ward salon in Chelsea. It was Pryce who tended to Kate's locks for her engagement photos which were immediately beamed across the world.
Mr Ward himself will style Kate's mother, Carole, and sister Pippa - who will be her maid of honour.
Pryce charges £50 for styling and £88 for a cut and blow dry, but his prices are expected to increase dramatically after the Royal Wedding.
The hair stylist, who has 15 years' experience, will be helped by a team of 'dressers' on the wedding day as Miss Middleton and her party get ready at the Goring Hotel just down the road from Buckingham Palace.
Little known designer tipped for Katie's dress
By Jodie Ginsberg
LONDON, (Reuters Life!) - Not since Janet Jackson's "wardrobe malfunction" has an outfit sparked so much debate. The design and designer of Kate Middleton's wedding dress has been the subject of endless speculation since Prince William, second in line to the British throne, and his bride-to-be announced their engagement last year.
Veteran designer Bruce Oldfield, Alexander McQueen creative director Sarah Burton, Alice Temperley and even Jasper Conran have all been named as possible designers of the gown. And now a relatively unknown designer, Sophie Cranston, is in the frame.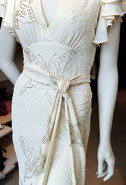 A wedding dress by designer Sophie Cranston's fashion label Libelula, is displayed at the Katharine Bird shop in Battersea, south London
Huffington Post royal correspondent Yvonne York reported that Sophie Cranston of label Libelula has been chosen to design what is already one of the most-talked about dresses of the decade. Middleton wore a Libelula coat to a friend's wedding earlier this year.
A spokeswoman for the label said it had no comment. The label's web site had gone down by midday on Monday. If she goes with Cranston, Middleton would be following in the steps of her fiance's late mother, Princess Diana, who chose relatively unknown designer Elizabeth Emanuel to design her dress for her marriage to Prince Charles in 1981.
Emanuel recalled this year that the intense media interest in the dress required strict security measures.
She said she had to bring in security guards and put Diana's dress in a safe every night to fend off reporters who camped out on the doorstep, gawped through the windows and rummaged through the rubbish bins looking for clues.
© Daily Mail London