Sri Lanka is supportive of a Iraq-Sri Lanka trading centre in Baghdad and this issue was discussed during a meeting between Minister of Industry and Commerce Rishad Bathiudeen and Kahtan Taha Khalaf, Ambassador of the Republic of Iraq to Sri Lanka and Maldives in Colombo recently.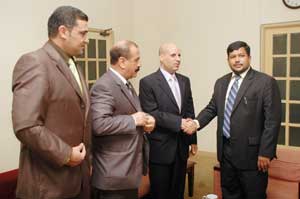 Picture shows from left -- Ahmed Abdulaali Al-Rikabi (Asst. Commercial Attache, Embassy of Iraq in Colombo) and Yassir K Chassab (First Secretary, Embassy of Iraq in Colombo), Kahtan Taha Khalaf (Iraqi Ambassador) and Rishad Bathiudeen, Minister of Industry and Commerce
A Ministry press release said that until 1990 Sri Lanka was the major supplier of tea to Iraq with 65% of the total annual intake of tea by Iraq. Currently, more than 90% of Sri Lanka exports to Iraq consist of tea but the Sri Lanka – Iraq tea trade is beset by allegations by some tea export companies about adulteration and mislabelling at trans-shipment points while on its way to Iraq. Both Iraq and Sri Lanka now believe that establishing direct Sri Lanka tea export channel to Iraq and also launching a Sri Lanka trading centre in Baghdad to sell Sri Lanka products will help solve these nagging issues while promoting trade cooperation as well, it said.
"I believe that these issues could be directly addressed by the proposed trading centre. The first issue is the Iraqi market's yearning for high quality Ceylon tea. Secondly the issue is of Iraqi consumers receiving low quality tea instead of the high quality tea sent from Colombo. Third, the issue of falling tea export revenues from Iraq for our tea export firms," the minister said at the meeting.