Thirty six members of the non-executive cadre who excelled in performance and made significant contributions to the success of top apparel exporter Brandix in 2010 were recently rewarded at the second edition of the Group's annual 'Employee of the Year' awards programme.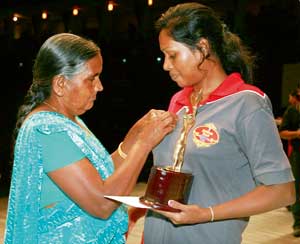 A mother pins an award on her daughter
These outstanding associates, as Brandix employees are referred to within the Group, will in addition to their rewards be provided a valuable opportunity to further enhance their skills through study tours to India, China and Bangladesh in appreciation o their efforts, the Group said in a press release. Exemplary contributions of three factory Supervisors were also among those recognised this year.
Mementos and special insignia that can be worn with their uniforms were also presented to 18 female associates and 15 male associates, by their respective parents and spouses at a ceremony at the National Youth Centre in Maharagama. The event commenced with the men's and women's finals of the Group's inaugural Inter-plant Volleyball Tournament for the 'Mercury Challenge Trophy' (Rasadiya Kusalaanaya), the statement said.
Seventeen of the associates chosen through the Employee of the Year programme will visit India on study tours while eight associates each will visit China and Bangladesh. Each of the three chosen Supervisors will also visit one of these countries.
"Rewarding the commitment and efforts of our associates is an important aspect of the caring and inclusive corporate culture of Brandix," said Colonel Sujith Jayasekara, Group HR Manager - Works HR of Brandix. "The valuable exposure and training that they receive will contribute significantly to further professional development and enhance their prospects."
The chosen associates shared their experiences on how their lives have been enriched after joining Brandix, when they were hosted for an informal tea session with the Group CEO. The Brandix Group is supported by 32 manufacturing locations island-wide, in addition to other facilities in the South Asian region, and strategically located international sourcing offices globally, and directly employs over 30,000 associates in Sri Lanka whilst providing indirect employment to an equivalent number.