Australia is set to increase its aid grant assistance to Sri Lanka to A$220,000 for this financial year.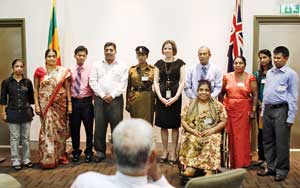 The recipients with officials
This aid is being granted based on the quality of projects with more being made to the North and East of the country that was unreachable previously due to the war, Australian Acting High Commissioner Sophia McIntyre told the Business Times on the sidelines of the handing over of cheques to eight NGOs at the mission office in Colombo this week.
In the last two years Australia had funded about two projects in the North and East. She noted that usually they would make an aid grant of A$100, 000 for both Sri Lanka and the Maldives with a majority distributed with the former.
A separate assistance will be provided for humanitarian aid development worth A$50 million for this year, she said adding that they also make grants for sports as well. It was pointed out that based on the nominations received Canberra would finally decide on the projects that deserve aid.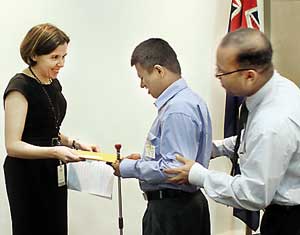 Acting High Commissioner presenting a cheque. Pix by Sanka Vidanagama
Each year, Australia supports human rights projects in the country, Ms McIntyre noted adding that this is carried out based on their annual programme on human right grants. On Tuesday, the Australian government handed over approximately Rs.9.8 million in grants to eight community based organizations for small scale development projects, as part of the Direct Ai Programme available for not-for-profit community development activities.
Organisations that received funding were: Community Development Services in Kurunegala to provide training for aspirant migrant workers; Equality based Community Support and Training in Galle to build inclusive villages to assist the disabled community; Wilgamuwa Women's Development Association in Matale for an income generations project; Sri Lanka Council for Visually Handicapped Graduates in Moratuwa for the development of digital audio books; Child Vision/Forum Against Gender Based Violence in Puttalam, for capacity building to support women, children and the disabled; Society for People Centred Development in Colombo, for the eradication of squalid conditions of basic amenities in underserved settlements; Association for War Affected Widows in Anuradhapura, Polonnaruwa and Batticaloa, to upgrade sanitation facilities for disabled persons; and James Cook University/Jaffna University, for the delivery of block mode medical immunobiology course for third year medical faculty students.
The Direct Aid Programme projects encourage community participation in the identification, design and implementation of projects. The programme aims to support women, children, elderly, disabled and the rural poor.