To visit a rural village in any country is fascinating. One gets an idea of bygone days, the culture of the people, the way they lived and how they earned their living, in addition to enjoying the environment which, in most cases, remains rustic and pastoral. Such was a visit to Kangaroo Valley in the southern highlands in the state of New South Wales.
Sight-seeing is easy in Kangaroo Valley. The little village, has just one street with a few shops, the school, the church, the post office cum store and the court house, as in the past. The shops sell antiques, crafts and home-made confectionary, jams and spices. Traffic is scarce. It's mostly the visitors who frequent the place.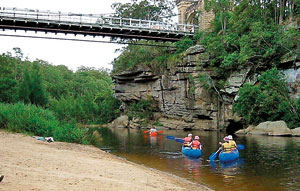 Time to take a canoe ride down the river
Described by many as "the most beautiful valley in Australia", it takes just a little over two hours from Sydney to reach Kangaroo Valley. The drive is pleasant particularly as you reach the highlands and start a steady climb. The Hampden Bridge, Australia's oldest wooden suspension bridge is a landmark in Kangaroo Valley. A most impressive and attractive structure built in 1898, the National Trust says it has "enormous aesthetic appeal." The towers are made of hand-carved local sandstone and resemble turrets of an English medieval castle. The sandstone and steel structure is suspended on each side by 14 steel cables 37mm in diameter with a tensile strength of 79.6 tonnes.
Built at a cost of 6985 pounds, it had been named after Lord Hampden, Governor of New South Wales from 1895-99. The sandstone and timber had been locally obtained and only the steel had been outsourced. The 28 cables had been manufactured in England. The bridge is138 metres long and about 28m above the water of the Kangaroo River. Originally designed for horse and cart plus a traction engine, the bridge was an important link between the southern highlands and the south coast.
The river below is a popular spot for canoeing.
There are several buildings which are National Trust listed and Heritage listed. Among these are the old bakery & residence (built in 1890), bank site presently housing the Fudge Shop (1891), Friendly Inn (hotel built in 1891), post office (1880s), the Anglican Church (1872) and the primary school (1871).
Staying in a farm house turned into a comfortable holiday home while maintaining the old world charm, we enjoyed the peaceful rural landscape of the lush valley. The rarest item, of course, was kangaroos!