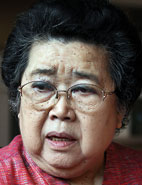 Prof. Nimmannitya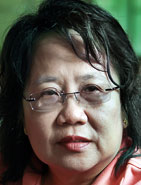 Prof. Kalayanarooj
Pix by M.A. Pushpa Kumara
Two Thai professors whose mission has been to battle the dreaded Dengue within their country and without and under whose guidance and training many Lankan doctors and nurses got the opportunity to learn about the most effective way to manage the disease, were here once again to share their knowledge. Kumudini Hettiarachchi reports.
One is the 'Guru' and the other the 'golaya'. But unlike in the much-discussed Guru-Gola (teacher-student) competition, this pair, now both Professors are working in tandem to battle a recent scourge.
Although their path in the early days were strewn with sadness generated by seeing many a young life snuffed out, they have over the years been instrumental in grabbing children from the jaws of death.
Eighty-year-old Prof. Suchitra Nimmannitya and 58-year-old Prof. Siripen Kalayanarooj have been combating dreaded Dengue not only in their own country, Thailand, but also across the globe for decades.
It was under their expertise, guidance and training that many batches of Sri Lankan doctors and nurses looked at the management of Dengue in a different manner with the Health Ministry's guidelines last year being based on the two Professors' findings over a long period of time.
The two Professors who are considered 'Ambassadors against Dengue' for the World Health Organization (WHO) were in Sri Lanka last week on the invitation of the Sri Lanka College of Paediatricians under President Dr. Deepthi Samarage and the WHO Sri Lanka Office, facilitated by the Health Ministry. The duo being very much a part of the WHO Collaborating Centre for Case Management of Dengue Fever, Dengue Haemorrhagic Fever and Dengue Shock Syndrome – Prof. Nimmannitya now retired but still working as an advisor and consultant and Prof. Kalayanarooj taking on the mantle –were here to conduct workshops at Colombo, Kandy and Anuradhapura organized by the Sri Lanka College of Paediatricians in collaboration with the Sri Lanka Medical Association and the Sri Lanka College of Physicians.
For Prof. Nimmannitya, the days when she battled Dengue at Thailand's one and only Children's Hospital, Bangkok, are crystal clear. As a medical student in the early 1950s she had heard of people falling victim to a haemorrhaging (bleeding) disease.
Having passed out as a doctor she was training to be a Paediatrician at the Children's Hospital (now known as Queen Sirikit National Institute of Child Health) when there was a major outbreak and children who were very ill flooded the hospital. A lot of them had gone into shock.
"When they had fever, they were not very sick. They were walking, talking and eating," explains Prof. Nimmannitya, stressing that overloaded with medication to bring down the fever, they had suddenly gone into shock.
By the time the parents brought them to hospital, their hands and feet were cold, they were drowsy and lethargic. Some of them were agitated and crying while others had turned blue. Their pulse was galloping or in severely ill children there was simply no pulse.
Most of them on average were under five years old and there was heavy bleeding, she says with emotion even so many years, over 40, after. Prof. Nimmannitya was assigned the task of looking after them. It was 1958. "It was a new disease," she says, and she watched over the little ones, taking time off only to grab something to eat and sleep a little bit. "I wrote everything…….symptoms and all."
Earlier, when a similar disease struck in the Philippines in 1953-54, it had been named 'Philippines Haemorrhagic Fever (HF)' followed soon after in her own country by 'Thai HF'.
Fortunately, before it became Singapore HF, the virus causing the HF was isolated as that of Dengue in 1960. Although the Dengue virus had been identified as way back as 1940 in Japan, it had not caused such severe illness until then, the Sunday Times learns. Prof. Nimmannitya's meticulous notes made at the bedside of very-ill children became invaluable. Everything was on paper - the characteristics of Dengue Fever with haemorrhagic manifestations, liver enlargement et al, followed by shock.
"Delay in bringing a child to hospital meant death," she says, which occurred within 12-24 hours of going into shock. Ironically, according to this Professor, the healthy and well-nourished seemed to be at the receiving end while those who were malnourished were spared, contradicting the way other diseases affected children.
It was then that the "four Dengue siblings" or serotypes were identified at the laboratory of the Southeast Asian Treaty Organization (now known as the American Armed Forces Research Institute of Medical Sciences ) which was across the road from the Children's Hospital in Bangkok, she says, adding that the realization also dawned that with repeat Dengue infections by the different serotypes, the chances of falling victim to Dengue Haemorrhagic Fever were higher.
It was in 1975 that Prof. Nimmannitya came to Sri Lanka to warn the health authorities of the dangers of Dengue, but the country had so far been spared of this urban curse. Worldwide, however, things were happening with different WHO areas getting together to face the deadly challenge being posed by Dengue.
Prof. Nimmannitya's studies were used to make a classification for diagnosis which was first issued in 1975 and revised in 1986. It was in 1997 that WHO Headquarters issued 'Guidelines for Diagnosis and Management' worldwide based on this.
The "corner" that the Bangkok Children's Hospital had screened off and designated for Prof. Nimmannitya to observe and watch over her little Dengue patients in the 1970s, by 1997 had become the 'WHO Collaborating Centre for Case Management of Dengue Fever, Dengue Haemorrhagic Fever and Dengue Shock Syndrome'.
The "wonder drug" which was steroids used to deal with any kind of shock has now been relegated to limbo when treating Dengue Shock Syndrome. Close monitoring along with the right kind of fluids and blood transfusions when necessary has provided the miracle answer, says Prof. Nimmannnitya.
The long days and nights when not only Prof. Nimmannitya but her nurses kept a close eye on their little charges have paid rich dividends. They have saved many lives and will continue to do so.
Early diagnosis, proper management can save lives
Both doctors and nurses are crucial in monitoring any critical or vital change in preventing Dengue deaths, says Prof. Kalayanarooj who came into the orbit of Prof. Nimmannitya in the 1980s when she was assigned to work at the Children's Hospital in Bangkok.
Recalling her heart-breaking experiences, she says that in 1987, 2,500 children were admitted to the hospital, brought from all over the country quite late into the illness, with nearly 1,000 dying of dengue, all over the country. The case fatality rate was 0.5% then and Prof. Kalayanarooj had the unenviable task of reviewing the cause of death.
"Many of the children had been brought late to the hospital," she says. That was 20-odd years ago and 12 years ago the King launched a "big project" to prevent Dengue while also reducing morbidity (disease) and fatality (death).
By 1999, for every 1,000 down with Dengue there were only about two deaths. Last year, in Thailand with a population of 66 million, 120,000 across the country had got dengue, of whom 131 had died, due unfortunately to delayed diagnosis and also infusion of too much fluid. The fatality rate has however seen a drastic dip to 0.13% since 1999 due to good management of dengue patients in the hospital.
Stressing that early diagnosis and proper management are the answer to preventing death, Prof. Kalayanarooj who is now Director of the WHO Collaborating Centre says in Thailand health workers closest to the people have been trained in early diagnosis. "They will screen the patients and manage them. If they can't they will refer them to the nearest health centre and depending on the severity, the patient will be sent to the nearest small hospital, onto the provincial hospital and only finally to the regional referral hospital.