Police have arrested a teenager in connection with the shooting of five-year-old Thusha Kamaleswaran, after one of the gunmen's targets came forward to help the investigation. The 19-year-old was detained in south London on Thursday following the shooting on Tuesday in which the little girl and another innocent bystander were caught in the crossfire of a suspected botched turf war attack inside a shop.
A Metropolitan Police spokesman said: 'Trident detectives investigating a shooting in Stockwell that left a five-year-old girl and a 35-year-old man critically injured have arrested a man this afternoon, Thursday March 31.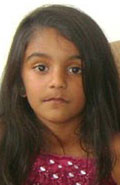 Critical: Five-year-old Thushara Kamaleswaran was gunned down in front of her mother and siblings by a bullet that narrowly missed her heart
'The 19-year-old man was arrested in south London and is currently in custody at a south London police station whilst inquiries continue.' Thusha was hit in the chest and Roshan Selvakumar, 35, suffered a head wound as two black youths cowered in the store after being chased by three other black youths on bicycles.
Police said Mr Selvakumar's condition was 'stable but serious'. Detective Chief Inspector Tony Boughton told reporters at the scene that officers 'are beginning to get a clearer picture' after one of two black youths who ran into the shop to flee the attack came forward to assist with inquiries.
'We are still trying to trace the other individual and appeal to him to come forward,' he said. Initial forensic reports support witness statements that two shots were fired. Evidence is also being analysed in a bid to work out if the attackers were linked with previous crimes.
'There's a lot of CCTV in the area and we are trying to follow a continuity trail to find the youths responsible,' Mr Boughton said. He said they had already had a good response from the community in their appeal for information.
The three attackers, who a witness said were between 14 and 17, fled from the Stockwell Road shop along Broomgrove Road and into the Stockwell Park Estate. The victims, both Sri Lankan and unrelated, were taken to hospital in south London.
'Although their injuries are very serious, they are both under the circumstances doing well,' Detective Chief Inspector Tony Boughton said. Meanwhile Thusha opened her eyes on Thursday - a sign of hope which brought huge relief to her distraught family who have kept vigil by her hospital bed since a bullet struck her close to the heart on Tuesday night.
It came as her father Sassi's horror at hearing that his daughter had been gunned down in a shop by a teenager was revealed by a family friend. Mr Kamaleswaran, who was not in the shop at the time, screamed: 'My daughter's been shot, my daughter's been shot.'
Spiranjani Jeyachndran said Thusha's father was in shock at the attack on the 'beautiful little angel'.
She added: 'He was so upset, I did not know what to say to him.' Close family friend Velluppillai Navaratnam, 49, from Croydon, south London, said it was a 'very difficult time' for Thusha's relatives.
'The parents of Thusha are at the hospital now,' he said. 'We are all praying for her to get well soon.'
Thusha, Britain's youngest gun crime victim, opened her eyes for the first time after waking from a medically induced coma.
The Mail can reveal that the intended victim of the attack was on bail at the time for a non-fatal shooting in the same South London borough of Lambeth. Officers are investigating whether Tuesday's incident in Stockwell was a 'tit for tat' attack by a rival gang in revenge for the earlier shooting by the boy, whose identity cannot be revealed for legal reasons.
On Thursday night the net was closing in on the gunman who casually sprayed Stockwell Food and Wine with bullets, narrowly missing Thusha's three-year-old sister, her brother, 12, and her mother Sharmila.
Though a 19-year-old has been arrested, it is not certain whether he was one of the gunmen.
The Sri Lankan family, from Ilford, were in the shop visiting an uncle who owns the business.
Outside the hospital, Thusha's uncle Vicknes Mahadevan said: 'She's awake. She's with her mum and dad in intensive care. The doctors have said she is doing much better.' Family friend Kirubakaran Nantheesparan said the 'chatty and cheerful' girl was making a strong recovery after undergoing three emergency operations in 24 hours.
The two innocent bystanders were caught in the crossfire of a vicious turf war when two black youths being chased by three other black youths on bicycles sought refuge in the shop.
As the pair hid inside, one youth stopped at the door and opened fire indiscriminately. Seconds later the gunman, armed with a silver handgun, and two other youths, all aged between 14 and 17, fled on bicycles.
One of the two intended victims has come out of hiding to help the police inquiry.
© Daily Mail, London