KANDAHAR, Afghanistan, April 2 (AFP) - More than 2,000 people demonstrated today in the southern Afghan city of Kandahar over the burning of a Quran in the United States, an AFP reporter said.
The protest came a day after seven UN foreign staff -- three Europeans and and four Nepali guards -- were killed during similar protests in the northern city of Mazar-i-Sharif.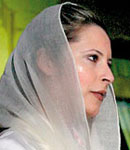 Aisha has become known as the 'Claudia Schiffer of North Africa' for her love of designer clothes and her high-flying career as a lawyer which saw her work for Iraq's president Saddam Hussein
In Kandahar police fired into the air today to try to prevent the crowd marching towards the UN offices and provincial administration headquarters, an AFP reporter at the scene said. "The protesters have split into two groups; one group is trying to march towards the UN office and the other towards the governor's office. But both have been blocked by police," he said.
"They number more than 2,000 now," the reporter said. The demonstrators, all men, were shouting "Death to US" and "Death to (President Hamid) Karzai, he added. "They have insulted our Quran," one protester shouted. Police did not allow reporters to speak to the demonstrators.
The mob beat up one Afghan photo journalist, breaking his camera, the reporter said. Authorities in Kandahar and capital Kabul could not be reached for comment. On Friday thousands of men poured onto the streets in the city of Mazar-i-Sharif, the normally relatively calm capital of the northern Balkh province, and killed seven UN staff in an attack on the world body's office.
Four Nepalese guards fought desperately against armed protesters but were overwhelmed and died along with a Norwegian, a Swede and a third staffer said to be Romanian who they were protecting at the compound.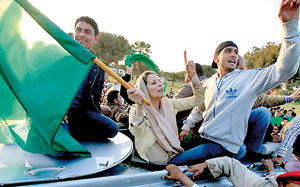 Aisha wears a veil and waves her father's flag as she moves among the Libyan people