Hemantha Perera, Managing Director of Kelani Cables PLC who transformed the company from a turnover of Rs 536 million to a 3.8 billion company, has resigned from March 31, according to a company statement.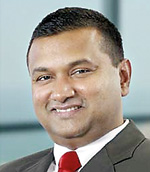 Hemantha Perera
Kelani Cables PLC, now a marketing oriented company has steadily gained the trust of customers due to its quality products, reliable distribution network, high confidence of its management and people-oriented leadership.
After Mr Perera took over Kelani Cables, the company grew from strength-to-strength with turnover sharply rising within just seven years. "The company expects the turnover to reach Rs 3.8 billion, a growth of 600 % by the end of this financial year, since Mr Perera took over," the statement said.
Addressing these issues was crucial. To revamp the organization, we paid much attention to identify the labour related problems of the company. Collectively management & workers attend to these issues and created an entirely new outlook and an environment within all sections of the organization," Mr Perera said.
He re-structured the sales operation by appointing separate sales teams to cater to government, institutional and distribution markets. The company also has seven Area Sales Managers to strengthen the re-distribution channels. Today Kelani Cables has a very strong distribution network in excess of 100 distributors Island wide.
These policies of Kelani Cables have been rewarded them with many national awards; The National Quality Award in 2006, National Safety Awards in 2010 and the CNCI Industrial excellence Gold Award consecutively in 2006, 2007 and 2008 for the first time in Sri Lanka in the cable manufacturing industry. Also the company was bestowed with the CNCI Industrial excellence Crystal award in 2008.
Among other superior achievements are the Taiki Akimoto 5S Gold Award for overall and manufacturing sector in 2007, the Superbrands Status in the year 2008 and the "Soorya Singhe Logo" with Certification as a Truly Sri Lankan Brand by Mawbima Lanka Foundation. "Kelani story is worthy of a case study" Mr Perera said.