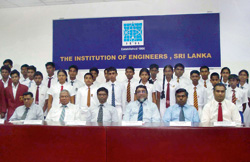 Seated from left: Eng. Jayantha Ranatunga, Eng (Dr) Sarath Abayawardana, Eng. (Prof) Ananda Jayewardene, Prof. Rezvi Sheriff, Eng. J. Meegoda and Indika de Zoysa, Country Business Manager, Intel EM Ltd - Sri Lanka Liaison Office.
The Sri Lanka Science and Engineering Fair (SLSEF) 2010, took place recently at the Institution of Engineers Sri Lanka (IESL) auditorium in an event which is a prelude to the Intel International Science and Engineering Fair (ISEF).
The event is an opportunity for local students to showcase cutting edge ideas and to be able to compete at the global event to be held in May 2011.
Two local winners of this year's event will represent Sri Lanka at the Intel ISEF while the other will participate as an observer. Intel will sponsor two individual projects and one group project winners along with the adult-in-charge to participate at 63rd ISEF to be held from 8-13th May 2011 in the US, according to an Intel statement.
---
MTD Walkers revenues up in 3rdQ 2010
MTD Walkers Group has declared operating revenues of Rs. 653 million for the third quarter to 31st December 2010, up 28% from the previous quarter of Rs. 508.8 million. The company said in a statement that its consolidated financial statements for the nine months to December shows a post-tax profit Rs 130 million, a sharp rise of 435% from Rs 24 million in the same period in the earlier financial year.
"Overall, I am pleased with the quarter's results in what continues to be a challenging business environment. We are seeing economic recovery across the Nation and we expect to capitalize on these opportunities," Viraj de Silva, Chief Financial Officer, MTD Walkers Group, was quoted as saying.
The statement said that MTD Walkers Group has a gamut of business functions ranging from engineering, steel fabrications, piling and construction and other infrastructure development.
"Ranked as one of Sri Lanka's top three engineering and manufacturing companies, MTD Walkers PLC has undertaken many road construction projects across the nation including contracts in the southern highway and the A9 road in the North," it said.
---
Galadari Hotels returns to profitability
Galadari Hotels Lanka PLC has reversed its loss-making operations to profits with the hotel company reporting a net profit of Rs 34 million for the year ending 31st December 2010 from a loss of Rs 352 million in the earlier 2009 year.
The results were released on Wednesday. According to the company's last quarter accounts, the fourth quarter net profit was Rs 35.4 million against a loss of Rs 54 million in the same 2009 quarter. The results show strong YoY growth in revenue and gross profit but also reveal that 'other operating expenses' are up sharply, according to brokers.
They said the results were boosted by sharp rise in (non-cash) exchange gains on account of foreign currency debt amid a stronger rupee. State pension fund EPF has a 13% stake in the company and is the largest single shareholder. Dubai-based business group, Galadari Brothers, initially the owners of the property, now control over 50 % of the company directly and through other parties.
---
SriLankan Catering sees success in environmental initiatives
SriLankan Catering's success in protecting the environment stands out as a role model among corporate houses around the world as to what an organization can achieve in conservation and corporate social responsibility.
In a statement the national carrier said its catering subsidiary has through a concerted effort blazed a pioneering trail in energy conservation, recycling, disposal of waste products, and environmental awareness among its employees.
Its efforts have won both global and national recognition. Winner of two Mercury Awards from the International Travel Catering Association in February 2011 for its unique innovations in disposing of food waste, SriLankan Catering was also given a National Energy Efficiency Gold Award 2010 in the large scale state sector category by the Sri Lanka Sustainable Energy Authority, the statement added.
Sarath Fernando, CEO of SriLankan Catering, said: "Our conservation efforts are no flash in the pan. This organization has consistently maintained the highest standards in safety, hygiene and efficiency, and two years ago we embarked on a comprehensive programme to bring all of our operations to the forefront of global conservation standards as well."
The company's efforts to reduce its energy consumption resulted in an extraordinary 40% reduction in fuel usage and a 10% reduction in electricity consumption between 2009 and 2010. The company also has been highly successful in recycling all types of waste products – plastic, polythene, tin, aluminum, food production waste, paper, and glass.
---
Global Standard Chartered 2010 operating profit up 19% to $6.12 bln
London -- Standard Chartered PLC this week announced an eighth successive year of record income and operating profit, demonstrating the consistent and sustainable growth strategy of the Group.
"We continue to invest selectively in the business, positioning us well to take advantage of the long-term growth opportunities across our markets, whilst maintaining a strong focus on the fundamentals of the bank. Normalised earnings per share increased 14 per cent and dividend per share was up 9 %, with RoE at 14.1 %, as the Group continues to deliver long-term value for shareholders," the banking group said in a statement.
It said 2010 delivered strong and diversified profit and income growth across markets in Asia, Africa and the Middle East with 23 markets delivering over $100 million of income, with 11 contributing over $500 million while 15 markets delivered over $100 million of profit, with India and Hong Kong both delivering over $1billion.
Wholesale Banking and Consumer Banking saw business activity in a number of products grow strongly over the year, as the bank took market share from competitors across its markets. Peter Sands, Group Chief Executive, Standard Chartered said: "This has been a strong year for the Group, with good growth in volumes as we take market share from our competitors. We have continued our planned investment in the businesses to position us well for the long-term opportunities across our markets, whilst delivering our eighth year of record profit and income. We continue to see strong momentum in both businesses, and the Group has a seen a record start to 2011."
---
SEC moves to regulate yet another website
The Securities and Exchange Commission (SEC) has launched investigations into yet another website dishing out stock market information, following a complaint by a High Networth Investor (HNWI) saying this website has defamed him, SEC sources said.
They said that the HNWI had complained to the capital market regulator that the comments in the website has alleged about his share transactions, which were baseless. After warnings against misleading investors by SEC, investnow.lk, decided to close in late January. SEC sources told the Business Times that they were also monitoring other websites that offer advice on investing in the stock market.
"Some of these sites can disseminate information which can lead to share manipulations, which is a main reason to monitor them," a SEC source said.