The start of a new year brings in a host of visitors to Sri Lanka. Amongst the sportsmen who were drawn to the island are the Razeen family Fouzul, his wife Petite (nee Dias). Both played hockey for BRC and then Sri Lanka with distinction.
Hockey ultimately helped them tie the nuptial knot and they decided to settle down in Brisbane, Australia in 1986. Petite plays netball in Brisbane mainly to keep fit now while their two daughters Shamana (19) and Rehana (16) play competitive netball in Brisbane.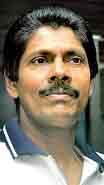 Former hockey International M.F. Razeen.
Razeen made a bee-line to the Sunday Times on his busy schedule to the island mainly to say 'hello'. I was the hockey reporter in the 60's to the Daily News and made a 40 day tour of India and Bangladesh in 1978 with Sarath Serasinghe leading the team. Razeen was a key member of that memorable tour.
Sadly G.D.L. Ayupala of the Air Force who managed the tour has crossed over to the Great Beyond.
That team was coached by Brian Assey and had the late Stanley Fernando as the Assistant Coach. The umpire on tour was the inimitable 'Buck' Jones. The team had an unbeatable run in South India but lost the two Corea Cup games narrowly against Tamil Nadu. Victory was assured against the Bangladesh teams in Dhaka and Mymensingh.
Razeen played a pivotal role in BRC and Sri Lanka hockey for over 10 years. He was more of a thinking player and was a terrific asset to any side. It was at the BRC that he met Peteite Dias, who was a member of the BRC ladies team, which side he coached at that time.
Razeen was Sri Lanka's deputy skipper in the Asia Cup games against Singapore in Bangladesh which Sri Lanka won 2-1 and in the series against Oman where Sri Lanka triumphed 2-0. The Asia Cup was ultimately won by Pakistan that year (1985).
Razeen looking a picture of fitness said that he did play hockey at first in Brisbane but plays badminton now…mainly to keep fit.
Razeen who has witnessed a lot of modern day Hockey including the recently concluded World Cup says. "I find it a pity that the game has lost the artistry of stick work to a great extent and more importantly cohesive forward play. True, there are a few players who are extremely talented but they do not have the elegance and magic of some of the former champions.
"Seldom do you see a forward line attacking with brilliant stick work and slick passing between them resulting in a beautifully maneuvered goal. Nowadays it is more an individual speedster or a deflection off a very hard hit that results in a goal."
Continuing Razeen said that a majority of the goals are scored off penalty corners as seen in the World Cup. "The two top goal scorers were penalty corner specialists. Having had the privilege of playing with and against some of the most talented hockey players in the 70's and 80's I wonder whether we will see such talent and teamwork again," he wondered.
Talking about Sri Lankan hockey Razeen said, "We had players in the caliber of Subash Fernando, whose stick work was a beauty to watch. Being a defender myself Subash was one of the most dangerous forwards to tackle. Speaking of forwards and stick-work you cannot forget players such as Ranjith Wijekoon, Ranjith Akahakoon, Homer Fernando, G.H. Jayatissa, with his fantastic back flick, Mervyn Preena, K. Saundaranayagam, Otto Preena, S. H. M. Kuthubdeen and M.G.M Naleem. In the defense department we had M. Ayub, Daya Ranaweera, Francis Assisi, G. H. Rupasinghe, Annesley Xavier and A. M. Fawzie to name a few.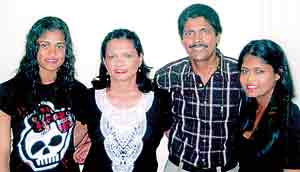 The Razeen Family
It must be mentioned that the players named above were tirelessly supported by some champion players like Stanley Fernando, A. D. McIntyre, Iqbal Jumar, Sarath Serasinghe, Sarath Wimalasinghe, J. M Jhan and S. M Mulafer.
"In the international scene it was poetry in motion to watch the Pakistani forward line with Samiullah, Hanif Khan, Hassan Sardar, Manzoor Junior and Islauddin or Kaleemullah work that ball with that master Akhthar Rasool distributing the passes.
From India there was Ajitpal Singh, Govinda, Ashok Kumar, V. Baskaran, Prabakaran,Sommayya, Zafar Iqbal and Mohamed Saeed. It was somewhat mesmerizing to watch these players in action partly because of their individual brilliance and mainly because of their combination. Sadly we lack this today.
Razeen says that modern day hockey is played like European Soccer where the ball is kept in possession in defense for quite a considerable period till they find an opening. "In years gone by 90 percent of the game was in attacking mode. "Open free flowing, attacking hockey is rarely seen nowadays. As there is no off side rule anymore players tend to hover around the goal area waiting for a long hit or scoop to score opportunistic goals."
"Teams rely very heavily on penalty corners as well. Unfortunately the changes in the rules have hampered the Asian countries to a very great extent. In my opinion the obstruction and off side rules must be brought back. This is why I find today's Hockey.