S. Thomas' and St Peter's missed out on recording outright wins over Ananda and St Sebastian's in their Under 19 inter-school cricket encounter concluded at Ananda Mawatha and Bambalapitiya yesterday.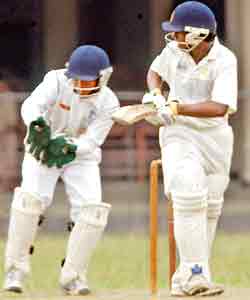 Royal's Imal Liyanage who made a knock of 96 against St Joseph's in action at Darley Road yesterday.
Pix by Ranjith Perera
It was a narrow escape for the two sides with Ananda escaping due to a crucial catch missed when batting the second time. At that time they were struggling on 108 for 7. St Peter's were 118 for 8 chasing 126 for victory when bad light stopped play with ample overs remaining.
The highlight at Ananda Mawatha was a fine knock of 119 from Javed Bongso inclusive of 18 boundaries which helped his side make 329 for 8 declared.
St Peter's right arm pacie Ranitha Liyanaarachchi had St Sebastian's in trouble when they batting the second time, but the Sebs recovered through a knock of 55 from Amila Aponso to make a respectable 158.
Royal batsman Imal Liyanage and Heshan Kumarasiri made 96 and 106 n.o and were associated in an 103 runs stand for the fifth wicket helping Royal make 308 for 7 declared. Wesley continued their dominance on the second day in their match against Prince of Wales played at Moratuwa. Pacie Daniel Bartholomuesz bagged 5 for 43 for Wesley.
At Reid Avenue Nalanda in reply to DSS's made 285 thanks to half tons from Koshan Dhanushka and Sineth Gunawardena while De Mazenod managed to overhaul Moratu MV's score of 171 when they made 179 at Kandana.
At Darley Road: St. Joseph's vs Royal
St Joseph's 243 (Aravind Fernando 50, Vidusha Jayasinghe 35, Pethum Madusanka 26, Ravin Perumal 25, Fabian Fernando 22: Anjana Kudahetty 3 for 33, Devin Pathmanathan 3 for 82, Imran Khan 2 for 40) and 145 for 7 declared (Vidusha Jayasinghe 35, Rosco Thattil 28, Sachin Hewawasam 21: Supun Subasinghe 4 for 44, Devin Pathmanathan 2 for 24)
Royal (62/2 overnight) 308 for 7 declared (Imal Liyanage 96, Ashen Ramanayake 38, Supun Subasinghe 20, Gaurav Deva 19, Heshan Kumarasiri 106 n.o.: Dinal Dambarage 3 for 79, Rosco Thattil 2 for 63) and 0 for 0
At Ananda Mawatha: Ananda vs S. Thomas'
Ananda 199 (Geshan Wimaladharma 47, Sachitra Perera 35, Dhanuka Madushan 32, Isuru Samasinghe 24, Rasitha Jayaratne 20: Neomal Wickremasinghe 5 for 36, Madushan Ravichandrakumar 5 for 46) and 141 for 9 (Dhanuka Madushan 46, Geshan Wimaladharma 24: Neomal Wickremasekera 3 for 33, Madushan Ravichandrakumar 3 for 56)
S. Thomas' (138/3 overnight) 329 for 8 declared (Javed Bongso 119, Nuwan Kavinda 59, Shivane Perera 42, Ramith Gunaratne 32, Sachin Peiris 27, Kavindu Perera 18: Thamala Abeygunasekera 4 for 58, Pasindu Madushan 2 for 77)
At Bambalapitiya: St. Peter's vs St. Sebastian's
St Sebastian's 164 (Marlan Fernando 29, Anuk de Alwis 22, Amila Aponso 20: Julian de Zylwa 3 for 57) and 158 (Amila Aponso 55, Anuk de Alwis 35, Marlon Fernando 18, Deshan Dias 16: Ranitha Liyanaarachchi 5 for 33, Dushan Hemantha 3 for 40)
St Peter's (168/9 overnight) 197 (Lahiru Milantha 54, Shasheen Fernando 42, Trishan Fernando 21, Dushan Hemantha 20, Ranitha Liyanarachchi 18: Wishwa Fernando 7 for 76, Marlan Fernando 2 for 31) and 118 for 8 (Sashen Fernando 54: Wishwa Fernando 4 for 52, Marlan Fernando 2 for 24)
At Moratuwa: Prince of Wales vs Wesley
Wesley 209 (Sachin Jayawardena 46, Raninda Sooriyakumara 35, Tharindu Karunaratne 25, Jason Cadergamanpulle 24: Tharindu Dilshan 4 for 69, Hashan Fernando 3 for 58, Namidu Fernando 2 for 29) and 119 for 3 (N. Perera 44, Ashen Fonseka 31: Tharindu Dilshan 2 for 47)
Prince of Wales (55/4 overnight) 124 (Tharindu Dilshan 33, Kushal Mendis 19, Eshan Chaminda 17, Shamika Sansala 16: Daniel Bartholomuesz 5 for 43, Sadeem Thawfeeq 2 for 19)
At Reid Avenue: Nalanda vs D.S. S. MV
DSS 291 (Heshan Perera 58, Savin Cyril 57, Akila Weerasinghe 52, Chamod Wickremasinghe 49, Mohamed Ijaz 33: Gayan Medawatte 4 for 36, Kushal Dias 3 for 75)
Nalanda (34/2 overnight) 285 (Koshan Dhanushka 67, Sineth Gunawardena 52, Prashan Wickremasinghe 48, Ishan Rangana 44: Kushantha Perera 6 for 101, Akila Weerasinghe 3 for 63)
At Kandana: Moratu MV vs De Mazenod
Moratu MV 171/7 overnight) 176 (Anuruddha Kalhara 72, Janidu Mudalige 43: Shanel Perera 6 for 48) and 127 for 4 (Sujeewa Liyanage 30, Ishan Peiris 27, Sanka Ramesh 23 n.o., Anuruddha Kalhara 20 n.o.: Shaluka Deemantha 2 for 31)
De Mazenod 179 (Shanel Perera 54, Sriyan Anuruddika 50, Sasaka Kodituwakku 30: Sanka Ramesh 7 for 77)