It is a million dollar question. I am sure that billions and billions of cricket fans are looking forward to witness the ICC World Cup Tournament. Even now they discuss and bet for their favourite country regarding the winners of this cricket plum.
Many cricket legends have already predicted that either India or Sri Lanka will carry all before them. Both teams are very strong sides and matches are played on their own conditions. So they will think that India and Sri Lanka are strong contenders to become the kings of cricket in 2011 by winning this most prestigious cricket title.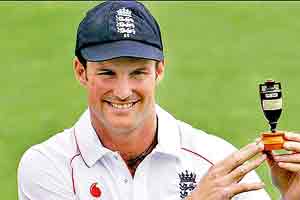 Andrew Strauss
As patriotic Sri Lankans we all would like to see Sri Lanka to win this Cup. That is the dream and wish of all Sri Lankans and we hope and pray that everything will go our way and our lion hearted cricketers give their best during the tournament to engrave the Sri Lanka name in the glittering ICC World Cup. As you all know my desire is to see that our country wins this tournament after our last victory in 1996. If we miss this chance it will be like missing the hen with the golden eggs. We hoe our cricketers will not disappoint us.
Though my wish is that Sri Lanka should win, I would like to put forward my opinion regarding the winners of this World Cup. Though we have a formidable side, our batting depends mainly on Mahela Jayawardena and skipper Kumara Sangakkara. If by chance during the knock-out stage both of them fail in one match, then our hopes will only be a pipe dream. Let us hope for the best and our wish is that both of them should perform well during the entire tournament. I am sure that even the other players too will deliver the goods in the batting department.
Let us take the English side. It is one of the best teams in the tournament. They are a very strong all-round team and presently they are playing like a champion outfit. Also we could observe that they are a very united bunch of players. This team does not depend on one or two players. In my opinion it will be extremely difficult to beat them. As I see it they have only one disadvantage, which is matches are played in the sub-continent. But the T-20 World Cup was played in the West Indies. There they played like professionals and won the tournament.
In the T-20 Tournament England were worthy winners. When I look at the English team I have a feeling that they have very good chance of winning this prestigious World cricket plum too. If Sri Lanka plays against the English team our lads will have to go all out to topple them. At present the English team is playing with a lot of enthusiasm and passion. According to me the lads from Great Britain are hot favourites to become champions at the forthcoming World Cup.-
Rev Bro Nimal Gurusinghe, FSC.