Chess is a game that tests both a player's mental resolve as well as his ability to think strategically, constantly forcing him to plot several moves ahead of his opponent. It was these psychological challenges that fuelled 15-year-old Udith Jayasundara's passion for the game, a passion he used to propel himself into the higher echelons of chess' junior ranks.
He was first drawn toward the checkered board by his sister's enthusiasm for the game. Though extremely eager to start playing she had no-one whom she could play against, so her then eight-year-old brother was duly reeled in to sit opposite her and feature in a battle of the Jayasundara family wits. This, however, served as a spark which ignited a fierce interest in the game for Udith and he immediately joined the chess club in his school at the time, Mahanama College, where he learned the game from renowned chess instructor and former national champion, Suneetha Wijesuriya.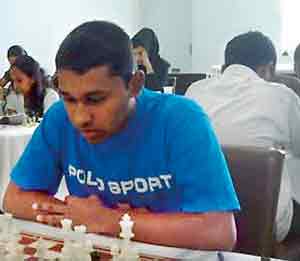 Udith Jayasundara
From that point the precocious youngster gradually progressed deeper into numerous junior tournaments, extracting from each a great degree of match experience which he used to perfect his in-game tactics.
With such a fervent desire to improve, it came as no great shock when in 2003 he made a major breakthrough on the junior chess circuit by sharing the title for the National Youth Championship. He proved his competency yet again the following year when he went on to repeat the feat, once again sharing the title.
In 2007, facing a very strong field of competition, Udith once again factored as a major force in the National Youth Tournament, steamrolling the weak and strong alike. Unfortunately he was unable to run away with the trophy and had to be satisfied with a third place finish.
Nevertheless the talented youngster was elevating his game at an astounding pace and before long his skill was earning him the attention of many senior players. This resulted in him booking a place for himself in Sri Lanka's National Chess Championships last year. Once again he manufactured some of his best chess and finished the tournament tenth overall.
2010 was also to be the year Udith announced himself to the international chess arena. Competing in the under 15 age group at the sixth Asian Schools Chess Championship in December, the teenager blew past rivals from India, Malaysia, Singapore, UAE, Kazakhstan and Australia to walk home with the gold medal.
As successful as the previous year was for Udith he still says there is plenty of room for improvement. "I want to keep playing more matches and am working hard. I think I still need to improve my middle and end game," he notes. He adds that he sets aside an hour each day during which he diligently works on his various strategies and game plans.
He expresses immense gratitude for all the things the game has given him, not least for his heightened reasoning skills and concentration. " The game helps you improve your powers of thought and makes you think intelligently," he states, before expressing that he is greatly indebted to everyone who has introduced and guided his growth in the game he so greatly loves.