The Banking and Financial service sector has always played a vital role in a country's development. It employs workers of high calibre and the fringe benefits offered have been at attractive best, but what is the foundation to pursue a career in this field and where does one turn for help?
The Institute of Bankers of Sri Lankan (IBSL) has been an instrumental institute that has aided the realization of banking career dreams for thousand of youth through their courses for Certificate in Banking & Finance (CBF) and Diploma in Banking & Finance (DBF). With over four and a half decades of tenure in the country and the only entity that offers qualitative professional banking courses at affordable prices, it is not doubtful why they have been pioneers in educating and training beginners of the financial sector and why they will continue to be pioneers for many more decades to come.
With the objective of enlightening those interested to begin a career in the financial service sector and clarifying grey areas about the services of the institute, Mr S.H.A.M Abeyratne Director General of IBSL divulged many statistics that have gone unnoticed.
Q: What is the current level of Banking Education in Sri Lanka and what is IBSL's position?
A: Sri Lanka is one of the best countries for professional education in South Asia. IBSL is also an institute that offers professional exposure to the financial sector and we are continuing to grow year on year. We recruited a total of 7000 students for courses in year 2010 and we do not get complacent. IBSL has a managing board that comprise of the Deputy Governor of Central Bank of Sri Lanka, CEOs from both state and private banks, representatives from professional Bankers' Association; and hence the content of the courses offered are unmatchable. Being a statutory body, we are committed to delivering a service that in no way disappoints students and their parents who endow their trust on us.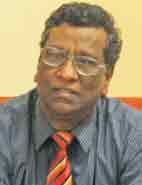 Mr S.H.A.M Abeyratne
We have had the affiliation of the International Financial Service, United Kingdom (IFS) since year 2000 and our courses are on par with their curriculum thereby making it an internationally recognised banking qualification. The recent development of IFS being granted degree awarding status means that we are now being considered to share that accreditation because they are aware of our high standards of education and their brand new status will have a rub on effect on IBSL too.
Apart from this, Northumbria University of UK offers students who have partial qualification of the IBSL's Diploma in Banking & Finance (DBF), the facility to join the final year of their Honours Degree in Leadership & Management as a result of being exempt from the first two years of the degree. The standards of our course go far across continents and we are proud that our courses have accomplished such stature even among the English universities. Where local universities are concerned, The Colombo, Sri Jayawardhanapura and Kelaniya Universities recognize our Diploma as a qualification for students to pursue their postgraduate degrees.
Q: Why should school leavers or Banking employees follow courses at IBSL?
Annually, approximately 350,000 candidates sit the G.C.E A/L examination of which 140,000 pass and are able to enter universities across the country. But the lack of resources only facilitates 23,000 out of the successful candidates, to attend universities and hence the remaining pool of students must have something substantial they can pursue and IBSL can be a good place to explore their options. IBSL attracts the most able students and to be in the company of them means that those who cannot enter university still get to be in the company of unique skill and ability.
The money factor epitomises why students must select IBSL for their banking courses. As a non-profit maximising organization, we only attempt to break even and hence we are able to offer all our courses at economical rates. Our initial registration for courses only costs Rs 3500 with a subsequent annual subscription of RS1500. Lecture and examination fees per subject for Certificate level education costs Rs4000 and Rs1500 respectively and fees under the same parameters for Diploma level subjects cost Rs5000 and Rs 1650 respectively. This makes us the most cost effective choice for aspiring students who will get qualitative education in return for the money they pay for quantitative course.
Registration for our September 2011 intake is now open, so I extend an invitation to all the students who wish to step into the financial sector to visit out local office at, Number 5, Milepost Avenue, Colombo - 3.